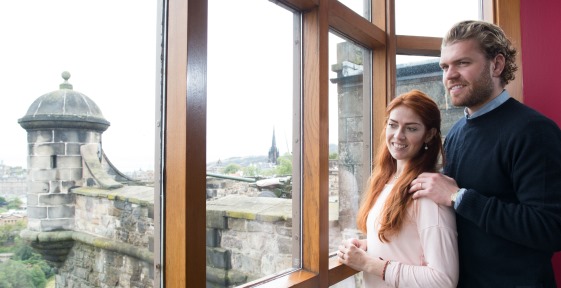 This month at the castle we're launching our craft beer menu. Due to increasing popularity of craft beers, we decided to introduce a selection to our menu in The Red Coat Café and The Queen Anne Tea Rooms.
We chose this collection because of their excellent quality, varieties in tastes and flavours along with the differing types of beer which allows you to sample craft breweries from across Scotland.
Here's a selection of the craft beers available:
St. Mungo Lager
St. Mungo is a true Premium Lager. Its natural carbonation and firm crisp taste perfectly counter its malty body. Clean, fresh and refreshing. Brewed with Scottish and German malted barley, German hops and yeast and pure Scottish water.
Harviestoun Schiehallion
Named after the famous Scottish Mountain 'SHE-HAL-I-ON' is a gutsy Craft lager, with a crisp palate and a lingering fresh, grapefruity finish.
Harviestoun Bitter and Twisted Blonde
A superbly-balanced, refreshingly-lively beer. A malty-sweet aroma with a floral, zingy and zesty flavour. Complex, rounded, sweet and dry.
Eden Mill Seggie Porter
Crafted in St Andrews, this small batch is award winning. Seven different malts go together here. Complex, with layers of flavouring including Coffee, liquorice and hints of dark chocolate.
WindSwept Brewing Co. Tornado
Brewed in Lossiemouth and named after the supersonic aircraft flown by the brewery founders. Tornado was developed with a robust malty base to support the incredible flavours, bitterness and aromas of the Citra hop.
WindSwept Brewing Co. Typhoon
Typhoon is infused with the Yakima Valley, USA, Amarillo hop. Refreshing citrus flavours with lots of mandarin, this is a light delicious moreish IPA.
Come along and ask a members of staff in either The Red Coat Café or The Queen Anne Tea Rooms to find out about the craft beers on the menu.
Let us know which one's your favourite using #HSEat on social media!