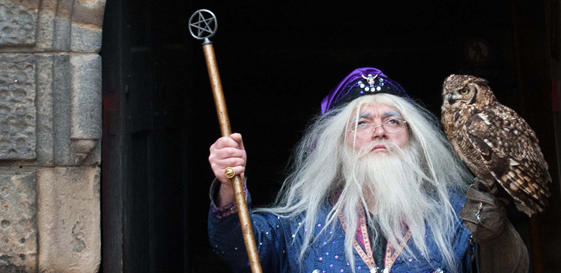 Looking for something to entertain the kids this weekend? We've got a cracking (excuse the pun) line-up of events for all the family at Edinburgh Castle from Saturday 19th – Monday 21st April 2014.
Look out  for 2,500 year old wizard Kramus Nexifius, whose incredible tricks and sleight of hand will leave you spellbound. You can also get up close with majestic birds of prey as we explore the myths behind the owl and explain how these fascinating birds survive in the wild.
Find out how to build your own castle with Peter, our master stonemason, in an interactive Medieval Construction Science Show. See how the forces of  friction and gravity, along with a big helping of human ingenuity, played their part in creating some of the amazing medieval buildings we can still see today.
Budding astronomers can discover what the sun and the stars have to do with the One O'clock gun with our friends from the Royal Observatory. Take a look at some of the equipment used to study the sun, and get hands on with meteorites from space. 
We've also got a castle wide Easter egg hunt for your little explorers to test their knowledge. Use the clues hidden around the castle to unscramble the hidden word.
We haven't forgotten the grown-ups either, as this Friday (April 18) a brand new exhibition opens in the National War Museum. Next of Kin reveals the story of the First World War through the fascinating personal experiences, family heirlooms and keepsakes from the front line.
If all this sounds good to you, remember that for just £7.04 a month your family can visit Edinburgh Castle (and over 70 other historic attractions holding hundreds of daytime events throughout the country) with Historic Scotland membership.