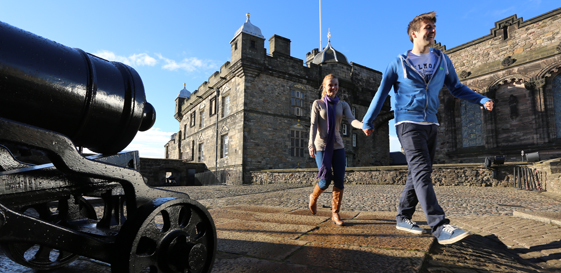 Still struggling for Christmas gift ideas? Why not give the gift of Historic Scotland membership this Christmas for a passport to great days out, all year round?
"My family and I visited Stanley Mills yesterday. What a fantastic job you've done with the exhibition centre. It's a really great exhibition and made me glad we'd taken out a family membership."
Membership includes free entry to over 70 of Scotland's top heritage attractions, including the mighty Edinburgh Castle, the newly-refurbished Stirling Castle Royal Palace and the uniquely atmospheric Iona Abbey, to name just a few. There's no limit to how many times you can visit our sites so once you discover your favourites you can go back and explore them again and again.
"We have enjoyed visiting your locations throughout Scotland … In fact, we have just purchased gift membership for our family so they can enjoy the experience with us."
With free entry to over 400 Historic Scotland daytime events also included, from living history and music to battle re-enactments and spectacular jousting tournaments, step back in time with us. There are also lots of opportunities to take part in members' activities, from guided tours and lectures to lunches and concerts.
What's more, new members also receive half-price entry to over 500 heritage attractions in England, Wales and the Isle of Man and free entry when renewing their  membership the year after.
Historic Scotland membership makes it so easy to explore Scotland's colourful past and at  just £7.04 a month for a family membership, it's great value. All Christmas gift memberships purchased online will receive an extended expiry date of 28 February 2015 – that's an extra two months absolutely free.
For more information and to purchase gift membership for your friends and family visit the membership section of our website. Gift membership orders placed before 13 December will be posted in time for Christmas.
Keir Booth, Marketing Executive
Edinburgh Castle