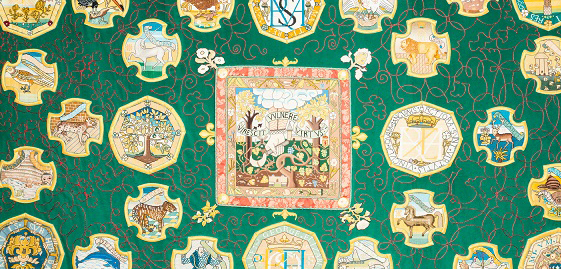 The original Marian Hanging is an amazing work of art, it is a large rectangular wall hanging from the 16th century. But what makes it exceptional, is the story behind its creation. It was made by Mary Queen of Scots during her 19 years of imprisonment. She was held under house arrest by the Earl of Shrewsbury, under the command of Elizabeth the 1st. During this time Mary struck up an unlikely friendship with the Earls wife, Bess of Hardwick. Both ladies were very accomplished at needlework, and together they devised a project to make embroidered pictures mostly depicting natural history and mythology. Together they made over 100 panels, the smallest are cruciform shaped and measure 29cm across, the largest are the centre panels and they measure 54cm across. The panels are fascinating, some are full of symbols and you can see that through her needlework Mary was able to express herself, when her words, letters and actions were under constant surveillance.
Many of the panels have an interesting story to tell. For instance the Phoenix panel is based on a popular legend of the time. The legend of the Phoenix is that this bird never dies, because it is able to regenerate itself, it can spontaneously burst into flames, and from the ashes a new phoenix is born. This legend was adopted by Mary De Guise (Mary Queen of Scots mother) as her emblem.
After Mary's death the panels were assembled onto green velvet wall hangings, and the ones that Mary made were sewn on one hanging which is now known as the Marian Hanging. The other panels, the ones that Bess made, were sewn onto two other matching hangings known as the Cavendish and Shrewsbury Hangings, and altogether these three hangings, are known as the Oxburgh Hangings, because they have been at Oxburgh hall (National Trust property) for many years.
33 volunteers have given over 2500 hours of their time to carefully remake The Marian Hanging Replica. Keeping the legacy of Mary Queen of Scots, the 'Creative Queen' alive for many generations to come. The Marian Hanging replica is now displayed in the Royal Apartments in the castle which was also used by Mary Queen of Scots.
The Heritage Sewing Group is a project set up by the School of Ancient Crafts (charity registered in Scotland SC043789) and this project has been funded by the Heritage Lottery Fund, The Worshipful Company of weavers, and private donations.
Remember to share your photos with us @edinburghcastle #edinburghcastle