A World Class Stewarding Team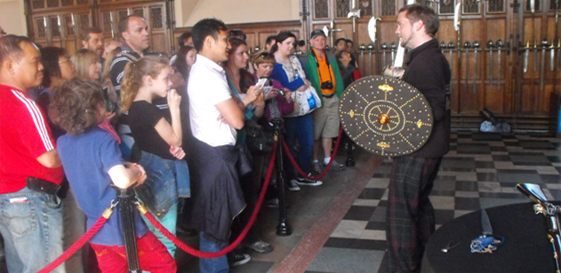 At Edinburgh Castle you will find a passionate stewarding team with an incredible knowledge of its proud history.
With more than 3,000 years of history the Castle Rock has a phenomenal history which our stewards take great pride in sharing with visitors. Whatever the question our highly qualified team will know the answer!

A castle steward entertaining the visitors with a display of medieval weaponry in the Great Hall.
With free guided tours running regularly throughout the day from the Portcullis Gate to the summit of the Castle Rock, 134m above sea level, our stewards will give you a fascinating glimpse into the many different roles Edinburgh Castle has played over the centuries.
Be prepared to be entertained in the Great Hall where our stewards have a range of medieval weaponry which visitors can handle. Learn all about their true meaning and purpose.
Hear how we get the expressions "losing the rag", "bite the bullet","half cocked", "straight as a ramrod", "under lock, stock and barrel" and "sideburns" amongst other well known sayings which originate from these weaponry!
Check out our events page for more information.
Roddy Telfer, Events and Promotion Executive
Edinburgh Castle