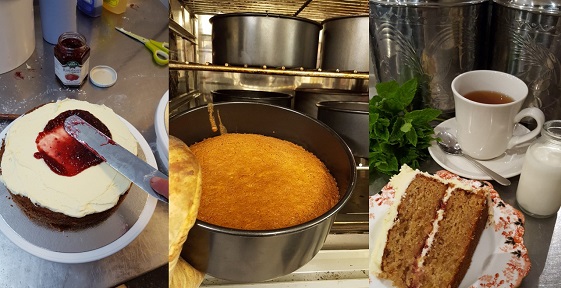 So now we are easing towards the autumn its turning out to be a good year for the bramley apples, if you are lucky enough to know anyone with an apple tree then this is a great recipe to use up lots of windfall apples which might be a bit bumped and bruised and not quite perfect for your apple sauce.
We make this apple cake recipe with gluten free flour and baking powder in the tearoom, just substitute the same amounts.
The recipe makes a 20 cm (8″) two layer cake, or can be baked in a rectangle tin as one layer.
Set your oven to 160c fan, 180c regular.
Ingredients
260g corn or sunflower oil
320g light brown sugar
6 large eggs
220g grated bramley apple, squeezed a little so not too wet
320g self-raising flour
5 level tsps baking powder
2 level tsps ground cinnamon
Method
I usually just mix this cake with a hand whisk, or you can do it with an electric whisk or mixer, it's nice and easy either way.
Whisk the oil, eggs and sugar lightly together until combined
Add the grated apples and mix again
Now mix in the flour, baking powder and cinnamon until well mixed in
Wasn't that just the easiest cake mix?
Now divide between your two tins (greased and lined) and bake for 40 to 45 minutes and cool in the tin.
I love this cake filled with vanilla buttercream and raspberry jam. If you have gone for the one layer, why not serve up warm with some custard or cream, super yummy!
Top tip for this recipe
If you are lucky enough to have an apple tree or a very nice friend/neighbour with one this is a great cake to make ahead and freeze while you can get free apples.
For an even fruitier cake you can replace one of the eggs with a small very ripe mashed banana, or half if it's a large one. This works in most sponge mixes too, very handy if you really want to bake and don't have quite enough eggs!
We are working on some new autumn inspired cakes through September, keep an eye out on our Twitter and Facebook to see what delicious goodies will be on offer in our tea room.
For next month's blog save a few jam jars, I'll be giving you a fabulous "make ahead for Christmas recipe" which is one of my all-time favourites!!
As always we'd love to see your photos of either trying out the recipe or enjoying a delicious treat in our tearoom – use @edinburghcastle to show us your pictures.