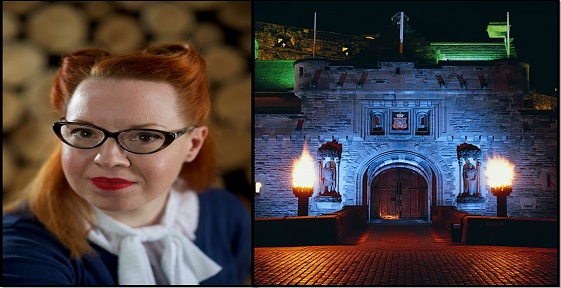 Like a lot of people who work in hospitality, I actually trained in theatre and there are a lot of similarities between theatre and events. Shakespeare famously wrote 'All the world's a stage, and all the men and women merely players' – and you could argue that this also holds true for events.
How much more spectacular a stage could you hope for than Edinburgh Castle?  From the grandeur of the Great Hall, the Queen Anne room at the top of the Castle, or the panoramic views from the Jacobite room, the set dressing is undeniably impressive.  Staff appear with food and drinks in a carefully choreographed team (I don't make them sing Be Our Guest, but never say never…).
And, just as with theatre, nobody should ever know all of the work that goes on behind the scenes!  A good event is like a swan gliding along on smooth water – it appears to be calm and serene, but beneath the surface, it may be kicking away like crazy!
Only this week, a guest said to me 'what a privilege it must be for you to do your job – you get to be involved in such special occasions'.  He is absolutely right.  It can be easy, in the midst of a bad day, to forget that we are lucky to work in such an iconic, beautiful place.  I mean, come on, I walk over a drawbridge to get to work!  On top of that, we get to play a huge part in weddings, family dinners and lots of other wonderful things.
There is absolutely no such thing as a 'typical day' in events – it does, however, always start with a cup of coffee when I get to work!  On rare occasions, I manage to spend an entire day at my desk, catching up on paperwork and making sure that everything is in place for upcoming events.  Otherwise, it's all glamour – carrying furniture, polishing glasses and cutlery and generally running around all over the castle!
To carry on the parallel with theatre, I follow the 5 Ps – Perfect Preparation Prevents Poor Performance. Just as an actor wouldn't want to step on stage without knowing his lines, I don't want to run an event without knowing that everything is as it should be. The more things I have checked off my 'to do' list, the happier I am!
Glasses polished? Check
Wine chilled? Check
Tables set? Check
Staff briefed? Check
Do I know where I have left my glasses and/or clipboard? Probably not! (Cue a quick scramble around as my team look for whatever I have left lying somewhere!)
Then, and only then, can we give the go-ahead for 'beginners on stage'.
For further details, or to discuss an event in more detail, please contact the Edinburgh Castle Events Team on: 0131 668 8686, or email: functions@hes.scot.
Author: Lou Milligan