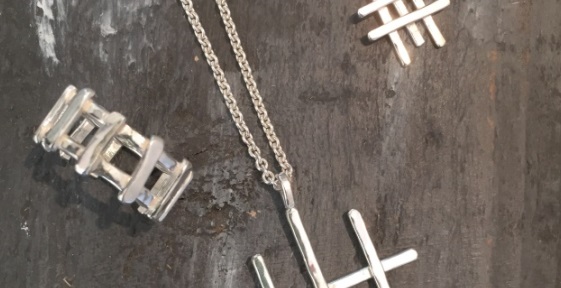 She designed our exclusive Portcullis range of jewellery that's only available at Edinburgh or Stirling castles.
Let's go behind the scenes with I Love a Lassie to find out why she choose the distinctive Portcullis Gates at Edinburgh Castle as her source of inspiration:
How did you develop your idea for the Historic Scotland range?  
I have always been fascinated by the gates at Edinburgh Castle and they used the same techniques to build the gates as I do with my jewellery. The technique of hammering mental and soldering hasn't changed very much over the years – the only difference is that I use precious mental rather than iron. And as I love using traditional techniques, the gates were the perfect object for my design inspiration.
What did you love the most about Portcullis gates?
The more I explored Edinburgh Castle, the more I liked the gate which makes sense since I love metal! The portcullis gates are so impressive – the pattern and texture of the iron grid work is so beautiful.
After you have selected the design, what was the next step?
Lots of sketches then made up lots of grid sections from hammered silver and played around with layouts.
What was your favourite part of the design process of the portcullis range? 
Seeing the final product and being happy with it. It's always the best bit!
Did you use any innovative techniques?
Actually I used traditional techniques as I'm an old fashioned silversmith and enjoy making things by hand. The best part for me is being able to mould and craft as I work.
Pop in to either Edinburgh or Stirling Castles to buy the exclusive Portcullis range from I Love a Lassie.