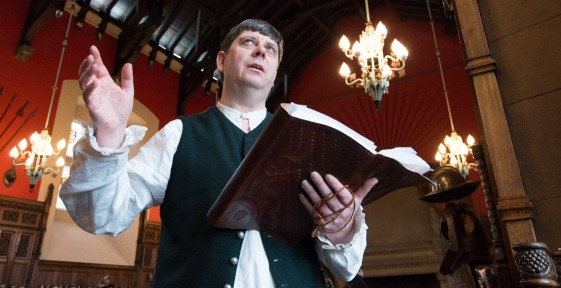 The life and works of one of Scotland's most famous poets and exports, Robert Burns, will be the focus of the castle this weekend. Everyone knows of Rabbie Burns, Scotland's great poet, but not everyone knows his poems – what better place to start than with Burns for Beginners! Burns' beautifully crafted lyrics can trip up those not familiar with old Scots or even the Scot's dialect. Over Saturday and Sunday we'll have our very own Burns taking up residence in our Great Hall.
Start your introduction to Burns with some of the literary great's works including Tam O'Shanter and A Man's a Man for A' That. Meet the man himself, listen as he recites his work and then get involved as we look at the meaning of the poems. But Burns' won't be doing all the work – crowd participation will be highly encouraged!
Burns for Beginners takes place at 11.15am, 12.15pm, 2pm and 3pm on Saturday 24th and Sunday 25th January 2015.
The event is included in the cost of admission to the castle.