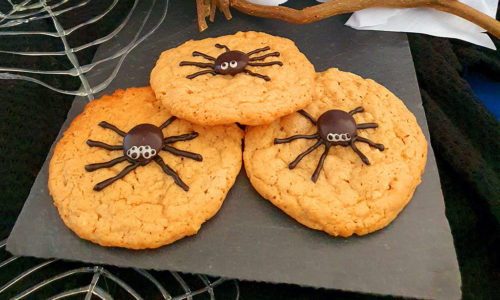 Trick or treat! We have got something good for you to eat!
Halloween is just weeks away and although it may be slightly different to previous years, that doesn't mean you can't enjoy some tasty treats! Our spooktacular baker Red has created this terrifyingly delicious recipe, which is great to make with the kids – it only has three ingredients, and it's also gluten free! We trust it will impress all the little (and big!) monsters in your house.
Ingredients:
200g crunchy or smooth peanut butter
175g caster sugar
1 large egg
To decorate:
Sweets such as minstrels or chocolate buttons for the spider body
Melted chocolate for the legs
Candy eyes, or any white icing that can be piped
Method:
Pop the oven on 160c fan, gas mark 4.
Weigh out the peanut butter and sugar, add the egg and mix together well to form a dough. It might be quite sticky, don't worry about it!
Place mounds of dough on a baking tray, each about the size of a cherry tomato and flatten them out slightly with the back of a fork, leaving room for the cookie to spread.
Bake for 12 to 15 minutes, until brown around the edges. Leave to cool on the tray.
To decorate, pipe on the melted chocolate legs and stick a sweet body on the top (I used minstrels). Stick the eyes on with a little chocolate, or pipe on the white icing with a little melted chocolate in the middle for eyes.
We are tempted to try this recipe out before Halloween! We'd love to see your creations share them with us using @edinburghcastle or #EdinburghCastle