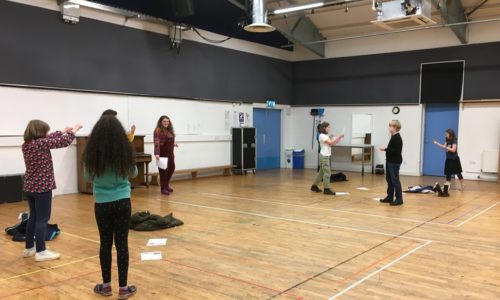 The Untold Stories of the Children of Edinburgh Castle
Coronations, kidnappings, duties, punishments, opportunities, obligations. The Children of Edinburgh Castle have seen it all.
And now their untold stories are being brought to life by young people who have reimagined their thoughts about the parts they have played in the castle's history. Key moments of mixed emotions – heartache and pride, fear and excitement, boredom and resentment.
A new series of short films
Visitors to Edinburgh Castle will be able to watch historic fictions offering a glimpse into 12 children's lives woven into Edinburgh Castle's past. Some of these children you may have heard of – James V, Margaret Tudor – as our records tell us a little about them. Other stories and names are fictional, although we've based them on historical research.
Bring your own devices (and some data!) along to view the films on site. Interpretation panels will give you QR codes to scan or short URLs to key in.
Young perspectives
The stories of the Children of Edinburgh Castle have been crafted and shared on film by 12 amazing young people – Niamdh, Jamie, Rowan, Xanthe, Jason, Alfi, Lola, Penelope, Maya, Ramona, Seumas and Freya. Penelope said:
I'm really excited to see myself at the castle! Maybe people will believe I'm a time traveller."
The young people all shaped their stories with guidance from Historic Scotland staff who provided background on the characters and helped with historical research. Jason, who plays imprisoned drummer Francois, added:
I'm pretty proud of how we didn't have a lot of time to create these monologues but we managed to bring them to life and I'm excited to see myself."
Lyceum Youth Theatre
Ten of the Children of Edinburgh Castle characters are played by members of the Lyceum Youth Theatre, who explored their characters' stories together as a group and then each developed their own script and performance.
Thanks to them you'll get to meet teenage queen Margaret Tudor, French prisoner of war François, busy servant Agnes, gleeful Wee Rab, siege survivor Janet, warrior-hearted Rhiannon, treasure-seeking Anna, Redcoat rascal Mary, an indignant James V, and far-from-home Eleanor.
A journey of discovery
Sophie Howell from the Lyceum Youth Theatre said: "I think that this project has been a fantastic experience for the young people at the Lyceum Youth Theatre. It has been so exciting for our participants to discover that people who are their age were kings and queens, as well as servants and people under siege. This has opened their eyes to a whole world that they perhaps previously wouldn't have associated with Edinburgh Castle.  We had had such fun creating the voices of these characters. I think my favourite part as Youth Theatre Director has been seeing how they have taken real ownership of the films. I can't wait to see them."
BSL and Gaelic stories
An exciting yet fearful moment in the life of Lady Joan Stewart is shared by Niamdh in British Sign Language; some scholars believe Joan was deaf and may even have used her hands to communicate. Niamdh's compelling storytelling was supported by the Deaf Action Youth Service and Solar Bear.
And Seumas shares the story of an awestruck bagpipe maker's son's visit to Edinburgh Castle in Gaelic, with support from Sabhal Mòr Ostaig.
Which of the Children of Edinburgh Castle are you?
There's an Edinburgh Castle child in all of us. Can you relate to the frustrations of James V? Or the never-ending labour of put-upon Agnes? Join us at Edinburgh Castle and let us share the stories of its children with you from across the centuries.
Alternatively, put yourself in all sorts of historic shoes from the comfort of your home! Let your imagination take flight and try out our free downloable That Job is History game. It's perfect for groups of three to six people, in person or online. Players take turns to interview each other for a range of quirky historic jobs.
Can you blag your way into the job of Castle Cook? You'll need to draw the cards 'being good at rhyming', 'owning a lot of hats', and 'being a fast runner'? Only time will tell…
Please note all filming and group facilitation was done within the COVID guidelines at the time.
Rehearsal images © Royal Lyceum Theatre