Edinburgh Castle 80 Shilling – A beer right up your street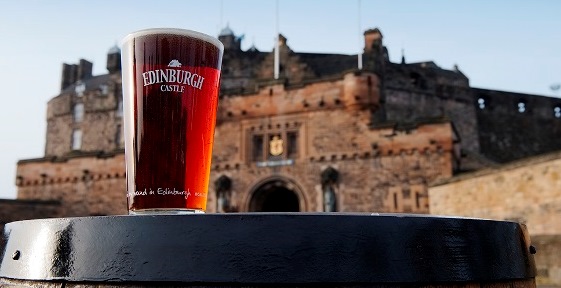 Written by Craig Steven, Edinburgh Caledonia Brewery's Operation Manager
I first fell in love with this style of beer ironically in Glasgow, where I was studying. I was always more predisposed to ale rather than lager and at that time in the west of Scotland it was certainly a challenge to find beer in its purist cask form. For well-kept cask beer you had to know the right hostelries, and in seeking out and sampling new Scottish brews I first discovered the delight of Caledonian 80 Shilling in Drury Lane.
The year would be around 1989 and I remember the impression it made on me; how tasty it was and such clean malt balanced bittersweet flavours with a dry finish. I later discovered when buying bottles of the beers in Edinburgh that the labeling triumphed the great mellowness' of the beer. I remember also how distinct the beer was and when spending weekends in Edinburgh visiting friends, it would always be my pint of preference with the Last Post and Greyfriar's Bobby pubs being frequented.  My first love for 80 Shilling was something special for me and I treasured what was a distinct Scottish style and an Edinburgh beer.
The shilling designation was originally about a classification of strength based on the wholesale invoice price. The original 80 Shilling style in the 19th century was one of the lower gravity Scotch ales. The 80 Shilling pale ale style we know today developed post WW1 and became known as Export, destined for England as well as the domestic market. Scottish ale was well renowned for its quality globally and core to this was Edinburgh, which along with Burton On Trent was a fundamental brewing centre of the world. The Scottish style is still regarded globally as the best exponent of malt brewing and indeed many craft brewers in the US and elsewhere now produce this style.
To ensure this iconic style is given the respect it deserves we have partnered with Edinburgh's most iconic site, Edinburgh Castle, to guarantee this beer stays firmly on the map. We have ensured the shilling will remain within the brand hierarchy but will follow the brand of Edinburgh Castle, which will give the beer the status it richly deserves.
We are also going back to more original thinking and will increase the bitterness in both cask and bottle and use fresh pack full leaf hops.  So a reinvigoration of a great beer with a new recipe. In terms of taste I can point to the following we have added to the back label.
Edinburgh Castle 80/- is a beautiful russet brown beer with malty fruity aromas, flavours are of caramel, malt and a good balancing dryness in a soft hoppy finish. We at Caledonian Brewery are proud custodians of a brewery blessed with Victorian ingenuity and we believe are well placed to deliver a beer rich in history and depth of flavour.
In 2015 we will see the year of Food and Drink Scotland being celebrated and the authentic Scottish beer should of course be on the table.  The castle itself enjoyed a record year for visitors last year which numbered 1.4 million.  Many of those are seeking the genuine Scottish experience and what better way to point them in the right direction but brewing an Edinburgh beer for our outstanding Edinburgh landmark.
Edinburgh Castle beer is available in bottles in the Portcullis & Whisky & Finest Food Shops, give it a try the next time you visit!