Edinburgh Castle and its monarchs!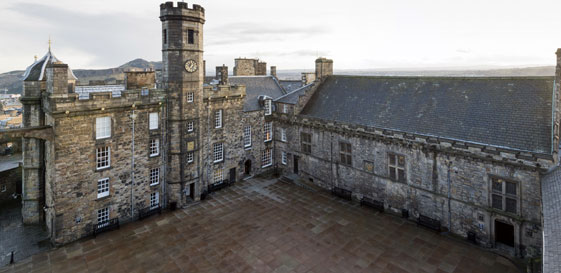 Today,  9 September 2015, Her Majesty The Queen will be Great Britain's longest-reigning monarch, surpassing the 64-year reign of her great-great grandmother, Queen Victoria (1837–1901). This got us thinking about the royal connections Edinburgh Castle has had over the centuries.
A royal castle had to fulfil certain key functions. It had to be a symbolic and a real centre of power. It provided accommodation for the king and queen and their household and court. It acted as a state prison and as a secure storehouse for priceless jewellery and state documents.
Edinburgh Castle was one of the most popular royal residences throughout the medieval period, and it was at that time that Edinburgh emerged as Scotland's capital city.
Alexander III (1249–86) had been at Edinburgh Castle in 1286, just hours before he died – he had been holding a council meeting there. Against advice (he had enjoyed a few drinks and the weather was foul) he decided to return to Kinghorn in Fife, where his new wife Yolande was in residence. He fell from cliffs on Fife's Forth coast. His death created a power vacuum, which would ultimately lead Scotland into the Wars of Independence.
David II (1329–71) spent time in exile in France and imprisoned in England. On his return to Scotland in 1357, he began the construction of the mighty David's Tower at Edinburgh Castle.
James I (1406–37) invested in new building to improve the castle's accommodation. He had a number of new towers built or repaired after his return to Scotland in 1424. His son James II (1437–60) loved big guns and spent much of his time close to the royal arsenal, which was securely kept in the castle.
For James III (1460–88), the castle became a principal royal residence, along with Holyrood. Records are sketchy, but he appears to have kept the castle in good repair. It was his son, James IV (1488–1513), who had a greater impact on the castle, building the magnificent Great Hall there.
James V (1513–42) was brought to the castle as part of the battle for control of him when he became king at a year old. As an adult, he invested in the royal palace beside Holyrood Abbey, at the lower end of Edinburgh's Royal Mile. Among other advantages, it had an excellent water supply, something that the castle lacked.
While James was at the castle, control of it fell to the Douglas family. His stepfather, Archibald Douglas, Earl of Angus would ultimately control the government by refusing to give up custody of the young king. James's escape in 1528, aged 16, signalled the beginning of his personal reign.
One of the most important events at Edinburgh Castle was the birth of the future King James VI of Scotland and I of England, on 19 June 1566. His mother, Mary Queen of Scots, had abandoned the comfort of her usual residence at Holyrood House for the birth. Just three months earlier, her private chambers had been invaded by a large gang of armed nobles who murdered her private secretary David Riccio before her eyes. The castle was safer.
Mary took up residence in the ground-floor chamber of the palace block at Edinburgh Castle, where her furniture and furnishings were installed, including her great four-poster bed. When her time came she withdrew to the tiny room now known as the birth chamber. It was a long and painful labour, but the delivery of a healthy male heir prompted great celebrations.
Above the doorway leading into the palace from Crown Square is a gilded panel bearing the date 1566 and the initials MAH, for James's parents Mary and Henry, Lord Darnley. But within 14 months, Darnley had been murdered, Mary deposed, and the infant James crowned king.
In 1603, when James VI became also James I of England, the royal court relocated to London. James returned to Scotland only once, in 1617. It was a fleeting visit, which nevertheless prompted a major remodelling of the palace at the castle.
The last monarch to stay was Charles I (1625-49) before his Scottish coronation in 1633.
Royal focus returned again in 1822 with the triumphant visit of George IV (1820–30).
Queen Victoria visited several times between 1842 and 1886, prompting various improvements.
HM The Queen and the Duke of Edinburgh have visited the castle on several occasions. The Queen's latest visit was in July 2014, to attend the unveiling of the First World War benches.
If this has inspired you to visit, you can buy your admission tickets here.