Edinburgh Castle Goes Green!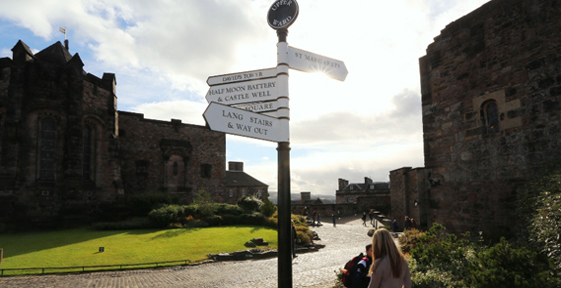 With the Edinburgh Festival Fringe now over for another year, and the big clean up in full swing, this week we thought we would turn our attention to the work going on at the castle to make Edinburgh a greener city.
Over the past few years, we have been taking measures to cut our energy usage and boost our green credentials. Just some of these include installing LED lighting in many of our on-site buildings, fitting wall insulation made from sheep's wool and encouraging our staff to be more aware of ways they can save energy at home and at work.
Edinburgh Castle is a member of the Green Tourism Business Scheme and currently holds a Gold Award. Presented to the castle team in 2011, it is an accolade that we hope to maintain later this year.
We have a dedicated Edinburgh Castle Green Team who meet on a monthly basis to discuss progress and future plans. The team paid a visit to a recycling plant in July in order to learn more about the recycling process. In recent months we have sent nothing at all to landfill: plastics, cans, paper and cardboard were all recycled and re-used. ).
Some of the attendees: L – R Paul Johnson, Emma Bowie, Caroline Stenhouse, Lynne Andrews & Shanks Site Manager
It may come as a surprise to learn that as well as being one of Scotland's leading visitor attractions,Edinburgh Castle is also home to a wide range of wildlife. Different species of plants, insects, birds and even our very own fox have been spotted by both staff and visitors. In fact, our castle fox is so popular he has recently been the subject of a children's book!
Our Monument Conservation Team has been putting bird and bat boxes around the site to encourage more animals to settle here. Why not pay us a visit and see if you can spot some wildlife? You can also take part in our Nature Quiz, which is running as part of the Year of Natural Scotland.
Why not see if you can save some energy at home? The Energy Saving Trust has some great tips on how to cut your carbon footprint and your costs. If one of Scotland's biggest landmarks can do it, so can you!
Emma Bowie
Events & Recruitment Co-ordinator
Edinburgh Castle