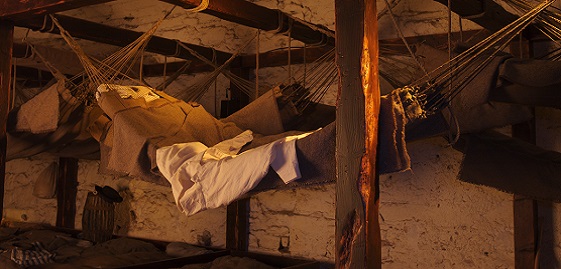 Edinburgh Castle has been a place of security for centuries, used as a safe place to hold Royal treasures, artillery, archives – and even Prisons of War.
War broke out between Britain and France in 1756 and within a year the first prisoners of war arrived at the castle. Between 1757 and 1814, well over a thousand of prisoners were held in the labyrinth of vaults below Crown Square.
Prisons of War
Though the crew of the French privateer the Chevalier Barte were the first official prisoners of war, there had been political prisoners before them. During the Scottish Wars of Independence many individuals fighting for the opposing side were held at the castle.
One of the better known prisoners was Sir Thomas Grey. He was an English knight, held in captivity at Edinburgh Castle in 1355. During his imprisonment, Grey made use of the castle's library and archives. It was here he began writing the Scalacronica, a chronicle documenting the history of Britain.
Later, during the Jacobite risings, our walls held many more political prisoners. The castle was largely reserved for higher status individuals, but at the time of Culloden 43 'common men' were held here. Many more passed through, held for a short time being transferred to English gaols. However, some poor souls were detained in the castle for many years. Macintosh of Borlum was imprisoned during the 1715 Rising and remained here until his death in 1743, aged 80 years old.
The Seven Years War
The Seven Year's War (1756 – 1763) was the first of several international conflicts fought between Britain, France, America and their allies. It brought a new kind of prisoner here to the castle. In the 1700s and 1800s, prisoners from America, Italy, France, Spain, Netherlands and Poland were crammed into our vaults. There were a few British and Irish rebels in there too. Most were seamen, captured by the Navy.
We know their names from historic records, along with graffiti scratched into the doors and walls of the vaults below Crown Square. We've pieced together the story of their imprisonment using newspaper cuttings, letters, accounts and objects in our HES collection.
Many POWs arrived at the castle in a sorry state. We see perhaps one of the most extreme examples with the arrival of 140 crew of the Marquis de la Fayette.
The French man-of-war was captured and sunk in the West Indies. The crew endured a 14-week voyage across the Atlantic in terrible conditions before eventually reaching Leith. One Edinburgh newspaper described the scene of the bedraggled and starving men marching to the castle as one of 'such misery and wretchedness as has never before been seen in this country'.
Life as a POW
Under international law, rules were in place to ensure the POWs were kept in reasonable conditions. Fireplaces were installed in the vaults for warmth, and vents to allow air circulation. There were separate latrines, exercise yards, and hammocks hung from the ceiling to provide bedding space.
Each of the POWs received a daily allowance of 6d and rations of food. These rations included 2 pints of beer, bread, beef, cabbage, butter, and cheese (on Saturdays). French prisoners received an additional 1d per day above this and were given new clothes.
Still, it wasn't a very luxurious life. A visit to the reconstructed prison vaults today provides a glimpse of the reality of their living conditions.
Edinburgh Castle, exposed on its rocky outcrop, would have been a cold and draughty place to live. Worse than that, up to a thousand seamen were crammed into the vaults at a time. With no more than 1m2 per person conditions were cramped, dimly lit, stuffy, cold and damp.
A report written by John Howard, prison reformer, in 1779 described the vaults as
'for the most part miserable holes, fit only for the reception of the worst malefactors…dark, long, and narrow, capable of admitting but little light and air'.
Uncertain Fate
The living conditions were bad enough, but prisoners also had to face tedium and uncertainty. Though rules were in place for the exchange of prisoners between nations, here at Edinburgh Castle we were so far removed from the arena of war there were long delays in transferring POWs back home. A young drummer boy captured at the Battle of Trafalgar in 1805 was still being held at the castle six years later. Some died during their imprisonment.
One way POWs tried to alleviate the boredom was to make and sell craft items. They made use of any materials they could find, including bones, straw and wood. Amongst other items they crafted hats, wooden boxes, board games and chess sets.
Each day, between 10am and 3.30pm, they were able to sell their wares to the public. This provided them with a little more money for luxuries such as tobacco. Several of these items survive and are now in our museum of HES collections, including the incredibly detailed model of the HMS St George which was sold to the Duke of Atholl for £5 4s 6d.
These objects and the graffiti left behind by the prisoners of war provide a haunting link to the individuals who were held here.
Visit the Prison of War today and get a glimpse of life for the prisoners of many nationalities who languished there.  At least you will be lucky enough to escape!