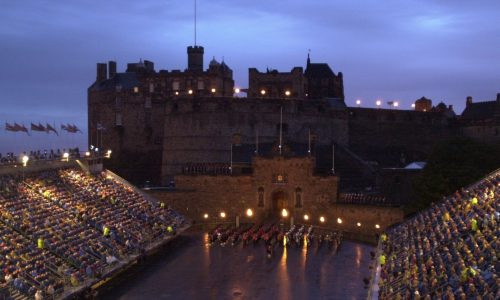 The Edinburgh Tattoo through a Kaleidoscope
It is that time of year again when we welcome The Royal Edinburgh Military Tattoo to the take to the stage! 2019 will be their 69th spectacular performance and runs from 2-24 August.
This started to make us think about the history behind this world famous show and how it all began…
A wee bit of history
Firstly the name. Aside from being a decoration of the skin, the word tattoo also means an evening drum or bugle signal recalling soldiers to their quarters.
The Tattoo began almost seven decades ago and had humble beginnings. It was inspired by a simple show called Something about a Solder performed in 1949. The original performance took place at the Ross Bandstand, which is located in Princes Street Gardens just below the castle.
Lieutenant Colonel George Malcome was the first producer of The Edinburgh Military Tattoo and aimed to bring the Army's contribution to the Edinburgh International Festival to life.
What started life as a modest event in a park is now a global show at the castle. This August, it will be seen by more than 220,000 people and watched on TV broadcasts by over 100 million worldwide.
Now for the facts
There are many fascinating facts about The Royal Edinburgh Military Tattoo. Here are some of our favourites:
The first ever performance was held in 1950 on the castle esplanade.
Not a single performance has ever been cancelled.
It was first shown on colour television in 1968.
Officer Cadet Elaine Marnoch was the first female lone piper to perform in 1977.
In 1983 The Royal Edinburgh Military Tattoo launched its first ever tartan.
Alasdair Hutton, the voice of the Edinburgh Military Tattoo began narrating the show in 1992.
Over 40 nations have represented at The Royal Edinburgh Military Tattoo over the years.
The impressive grandstand is quite a spectacle. It's a massive feat of engineering. Just how massive? Well…
850 tonnes of steel are used.
56km of cable are used.
It takes 43 days to assemble.
The seating holds 8,918 spectators.
Dine in style
For the ultimate experience why not dine at the castle?  We offer a range of wonderful hospitality packages, enjoy fine food and a warm welcome, a preview of the evening's performance before enjoying the show from the best seats in the house.
Kaleidoscope 2019
Colour, light and music will capture the imagination of audience for this year's year show which has been inspired by the optical invention created by Scottish physicist Sir David Brewster in 1816.
The iconic Massed Pipes and Drums, Pipers Trail, Tattoo Dance Company and Hjaltibonhoga, fiddlers from the Shetland Islands will dazzle audiences with their precision led performances.
As ever, one of the most memorable and spine tingling moments will come from the Lone Piper who plays against the backdrop of the castle.This will be an experience for all the senses and one that you will never forget.