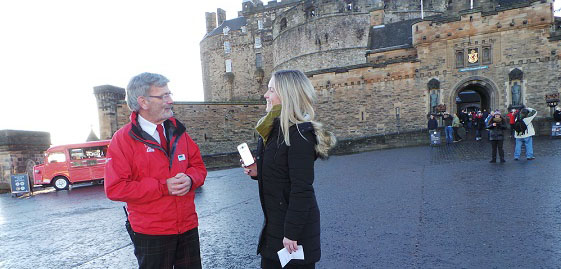 Before Frank's departure we caught up with him to ask him about his time at Edinburgh Castle.
How long have you worked at Edinburgh Castle?
I have worked at the castle for just under 11 years – it feels like 5 minutes!
What is your favourite part of the castle?
The Prisons of War. The Vaults are one of the oldest parts of the castle. If you look closely you can see how the vaults were built, how they have been converted and you can see the graffiti on the walls. You are standing in the foot prints of the men who carved their names in the walls – the human story.
What is your Top Tip for visitors:
Always take a guided tour! You will receive information you are not aware of and not likely to find out by yourself. Also speak to the guides inside the rooms – they can connect the stories and you can leave with more understanding.
What is your funniest story:
When I first started at the castle – I was in the Crown Room and a visitor asked me what we cleaned the glass with. I answered with glass cleaner. We both giggled for a long time!
The strangest question
Someone asked me if the Stone of Destiny had hooks in it so that the King could tie their servants to it – I had to tell them it was to help carry the stone.
Who is the most interesting person you have met.
I have met Prince Philip, shared a joke with Alex Salmond and met Robbie Coltrane – I met him at a night function – very funny man!
What will you miss most?
The people – definitely! I will miss the buzz! I have also always been proud to say I work for Edinburgh Castle. I will miss being able to say I am a guide at the castle.
You have been a great asset to the team Frank and we will miss you!
Guided tours take place throughout the day and the meeting point is through the Portcullis Gate past the audio booth by the clock. Remember to share your visit with us @edinburghcastle #edinburghcastle