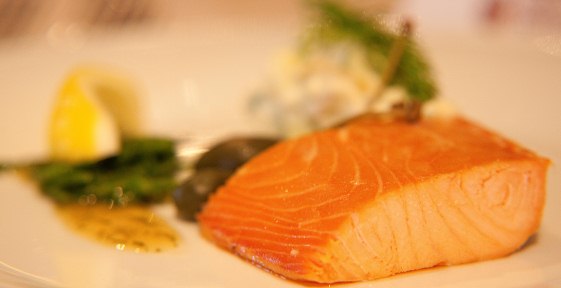 Hi, my name is Adrian Knibbs, I've been the head chef here at Edinburgh Castle for nearly five years.  I was born in Auckland, New Zealand but have been living in Edinburgh now for 16 years, more than long enough to call it home!
Working at the castle is a big honour for me and gives me a great opportunity to showcase the amazing products that we have here in Scotland.  With the amount of visitors that Edinburgh Castle gets, it is an easy way to put those products on show – so it is very important to me and my team that we source and use as many Scottish products as we can.
During this time of the year I am busy writing the menus for spring and summer.  It can be very difficult as there are so many amazing Scottish products out there, and I want to use them all!  It can take quite a lot of research in writing the menu as sometimes an idea can be brilliant but actually getting it to work on a menu or for the amount of people we will serve can be quite a challenge.
With 2015 being the Scottish Year of Food and Drink, there is an even bigger emphasis on the provenance of the products we will be using. Scottish seafood is something that I want to feature heavily on my menus this year – like this dish: Shetland's finest hot and cold smoked salmon, crushed beetroot, citrus marinated fennel and cucumber salad, with a caper and shallot dressing.
This salmon dish is from the menu that will be sampled by guests dining with us during the Edinburgh Military Tattoo.
Keeping to my Scottish seafood theme, this year our Tea Rooms menu will have "posh" fish and chips – Deep fried Oyster, Haddock, and crispy Squid with hand cut chips – yum!  Now to start serving up our new menus to locals and tourists alike!
We'd love to hear from any visitors who try one of Adrian's tasty recipes this year – Tweet or Instagram us your foodie photos with the hashtag #HSEat!