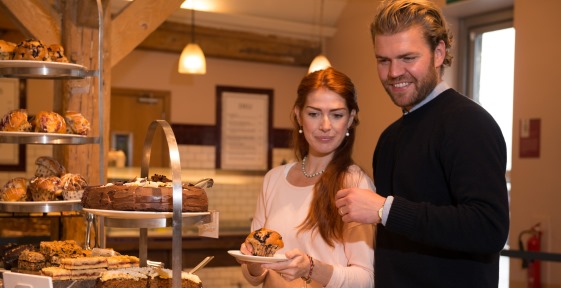 We recently caught up with Adrian Knibbs, Head Chef at the castle, about his exciting new foodie plans.
The chefs and I at the castle have made it through another very busy summer. Sometimes the busy days can sneak up on you and at other times you can see them coming. At that point we are glad we have our systems in place that will hold up to the challenge. The Edinburgh Military Tattoo stands are now down for another successful year and the October school holidays have been and gone in a flash.
My team have now switched their attention to our Christmas lunches. You know the usual how, where, what, kind of talk! Christmas time is a very busy and stressful time in everyone's kitchen, whether it's your home or a restaurant. But I will talk about that next month….
This month is really exciting for me as I plan what we will do next year. This is the time of the year when I start to think about the menus, how they would be implemented and what members of my team need further training to make sure we are one step ahead of the game.
The last couple of years have seen a change in direction, in the way we offer food around the castle. We have introduced a roast tent and a more comprehensive coffee and light bite Tuk Tuk.
So keeping these things while introducing some others idea is my goal. With our new supplier Braehead Foods firmly established now I want to introduce a chicken rotisserie hut.  We will be taking the finest Scottish chickens rubbing them with oil, garlic, thyme and then put them on the rotisserie until crispy golden brown. Using some of our other Scottish local suppliers, we will be making BBQ, heather honey whisky, and cool creamy Lanark blue sauces alongside some old fashion salads with a twist. Keep an eye out for this recipe next month.
Now I know what you are all saying; we cannot wait until next summer! Well fear not, we've decided that we should trial the chicken rotisserie hut for the St Andrews Day weekend. Yep, the team and I will be outside the Redcoat Café, in the freezing cold, cooking chickens! Since its cold we are going to add a winter treat as well, spiced hot apple, non-alcoholic, punch and mulled wine.
I'm very excited about the St Andrews Day weekend. I am from New Zealand and believe there is nothing better than cooking outdoors. And what better place to do that than Edinburgh Castle?
Come along and a try our delicious chicken and don't forget to share your snaps with us using #MyStAndrewsDay!