Fruit Cake, get prepared for…dare I say it…Christmas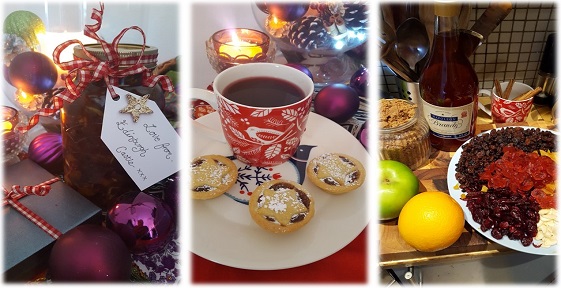 It's Christmas time in my kitchen this month! But it's far too early, I hear you all cry! Not in the catering world, this is the best time to be baking your fruit cakes and making ahead so there's less to do near the big day. I hope you all remembered to save some jam jars, I'm sharing my favourite mincemeat recipe with you. I always keep one jar of this and give the rest as seasonal gifts. Last year I knitted mini Christmas jumpers to go around the jars and have been told that a few teddies are going to be wearing them this year, that's a nice bit of recycling!
This is a nice boozy mix and keeps well for 7-8 months so plenty of time to eat it. I have also replaced the usual suet with butter, I think it gives it a nicer flavour.
Ingredients
175g Currants
175g Raisins
175g Sultanas
175g Dried cranberries
175g Apricots, chopped
100g Glace cherries, rinsed and chopped
1 Large Bramley apple, cored and grated
125g Butter
50g Flaked almonds
200g Dark brown sugar
1 tsp Mixed spice
2 tsp Ground ginger
1 Orange, zested and juiced
200ml Brandy
To make
Place all the ingredients except the brandy into a pan over a low heat. Stir to mix until the butter has melted, then continue to cook for ten minutes stirring occasionally. Set aside to cool for a while
If your jam jars haven't been through a dishwasher, wash with hot soapy water, rinse, and dry off in the oven
Stir the brandy into the mix and pack your jars to the brim, really push it in so there's as little air in the jars as possible, and screw the lids on tight. It doesn't matter if it is still a little warm doing this, it will help seal the mix in. Keep in a cool place and pat yourself on the back – that's a couple of gifts made already!
Top Tip
Switch your flavours around! If you have a whiskey fan in your family use instead of the brandy and replace the glace cherries with some thick cut marmalade. I tried a tropical version last year, using Malibu rum, pineapple and coconut. As long as the fruit weights stay about the same you can make this with lots of different flavours. It was especially good swirled into some vanilla ice cream, we even had the mincemeat haters eating it!
It's getting close to my favourite time of year, Halloween and bonfire night, so I'll be rustling up some spicy and spooky treats for the tearooms, and giving you a scrumptious bake recipe to enjoy with the fireworks!
As always we'd love to see your photos of either trying out the recipe or enjoying a delicious treat in our tearoom – use @edinburghcastle to show us your pictures