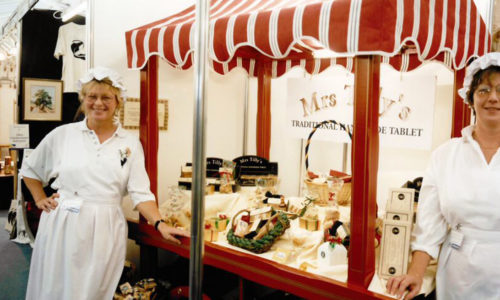 Get your tasty Scottish tablet and fudge at Edinburgh Castle!
Every now and then we crave a sweet treat, don't we? And a Scottish favourite to curb those cravings is tablet and fudge.
According to The Scots Kitchen by F. Marian McNeill, Scotland's famous tablet is first noted in The Household Book of Lady Grisell Baillie in the early 18th century. The traditional recipe uses just sugar and cream. More modern recipes substitute condensed milk and butter for the cream, as it tends to burn when boiled. These delectable sweet treats have been made into the family business of Mrs Tilly's since 1997. We wanted to find out more about this word famous brand from those who know it best!
It's all in the name….
Initially they started as a modest van sales business primarily selling crisps, they listened intently to their customers regular requests for high quality Scottish produce and so the beginning of Mrs Tilly's began in 1997 in in the Paterson's family kitchen in Tillycoultry, Clackmannanshire. The business is owned and run by two generations of the Paterson family, parents Peter and Elisabeth and their children, Blair, Keir and Lauren.
The secret to this breakthrough was an old family recipe which led to the creation of the now world-famous Mrs Tilly's tablet. Business soon boomed and developed as quickly as it started and they created a strong reputation for high quality products and excellent service.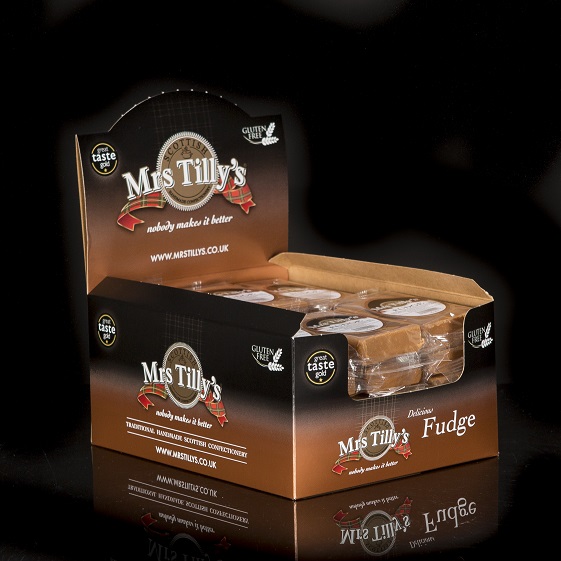 Sweet treats galore…
Mrs Tilly's range is of the highest quality and standard and ensure that they taste every bit as good as they did back at the start. Other than their iconic tablet they also make a range of delicious fudge together with mouth-watering macaroon bar.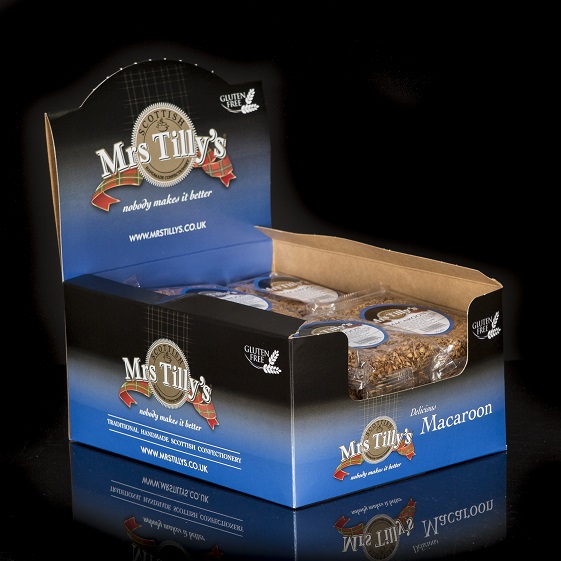 Mrs Tilly's is not just popular in Scotland. People in Europe, Canada, the USA and Japan are also craving their mouth-watering confectionary. Their tablet and fudge are now well-established products but there is, of course, time for a new treat.
Recently the creative confectioners at Mrs Tilly's have developed the world's first tablet coated popcorn! The combination of crunch air popped corn in a delicious sauce and Mrs Tilly's Tablet blended through sounds divine!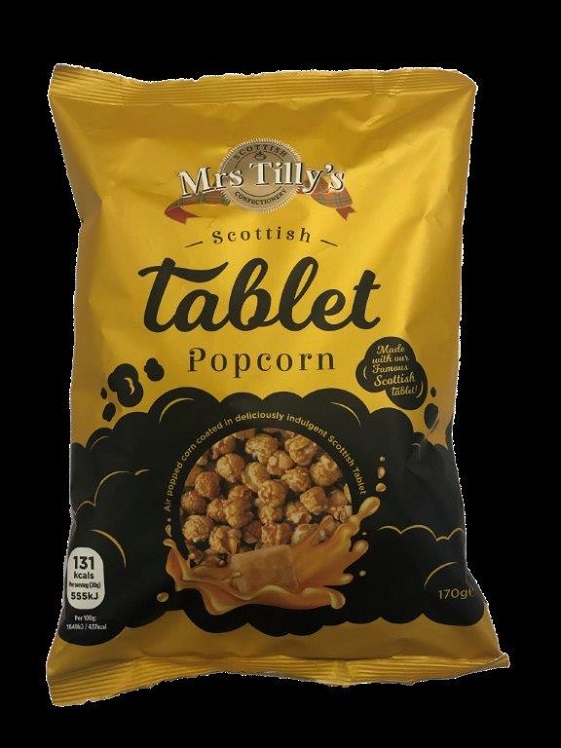 Now where can I buy it?
Thankfully Mrs Tilly's Tablet, Fudge and Macaroon are stocked at our retail shops at the castle.
News just in – the Tablet Popcorn will be available next year – it will no doubt be flying off the shelves! Don't forget to stop by the shop on your next visit and treat yourself.