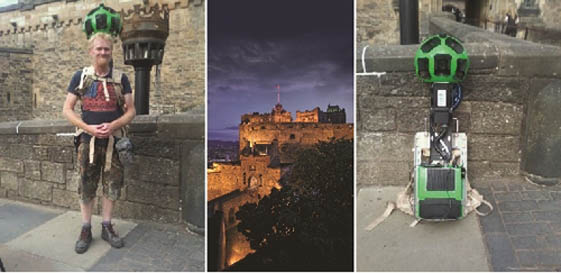 Last week Edinburgh Castle welcomed Google street view for a unique trail of the castle in order to capture our ancient stronghold in a very modern way.
Steve (pictured below) began at the drawbridge before making his way through the Portcullis Gate and up into Crown Square, the heart of the royal castle, surrounded on all sides by imposing buildings, including the Royal Palace, the Great Hall and the Scottish National War Memorial. On a beautiful sunny morning the views overlooking Princess Street, the New Town and across the Firth of Forth were particularly stunning.
The Castle was captured using the Google Trekker. Similar to Street View cars and tricycles, it includes a 15-lens camera that can shoot up to 46 mega pixel images. Valued at €40,000 the Trekker is a serious bit of kit, but is light enough to by carried via a backpack and, believe it or not, runs on an android smartphone.
Soon visitors past and future will, at the click of a button, be able to see just how vast and impressive an attraction Edinburgh Castle is on Google maps street view. There is so much to see and do at the castle with tours taking on average around 3 hours.
Following the routes through the castle, the world will soon be able to see some of Scotland's most priceless treasures without leaving home. Highlights include the giant medieval gun Mons Meg, the building containing the Honours of Scotland and the Stone of Destiny – Scotland's ancient coronation stone. Also featured are the military museums for two of Scotland's oldest regiments and Edinburgh's most ancient surviving building – St Margaret's Chapel which is from the 12th century.