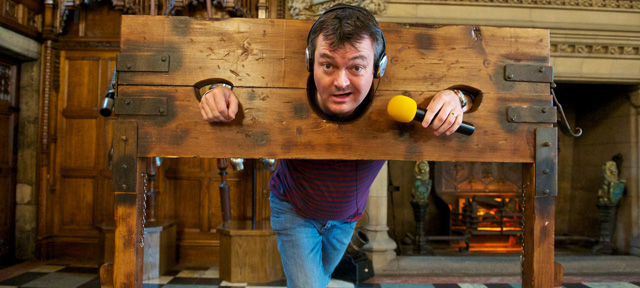 The Summer may be over in Edinburgh but the castle remains as busy as ever. Filming, fashion shoots, costume performers, a wedding open day and traditional skills workshops are just a few of the events to have taken place at the castle in the last few days.
On Friday we had a particularly exciting day with DJ and Edinburgh legend Grant Stott arriving at the mighty Edinburgh Castle for a live broadcast from the historic Great Hall. Grant spent the day getting to know the fascinating stories of the castle's past as well as meeting some of the dedicated employees that make Edinburgh Castle so iconic.
First to step up to the mic was duty manager Eric Dryden. Eric is responsible for making sure the castle runs like clockwork on a daily basis. He oversees everything from the general day-to-day running of the site to music concerts held on the castle's esplanade each summer, ensuring that everything is done to maintain our status as a world-class attraction.
Next up was Colin Moracen. Colin works in our admissions team and is one of the first faces you'll see welcoming visitors to the castle. He has also spent time as castle guide so has a great knowledge of the castle's history and was able to share some top tips on what to look out for and what not to miss on your visit. As a man of many languages, Colin even managed to drop a little French into the conversation. Très Bien Colin, proof indeed that Edinburgh Castle truly is an international visitor attraction.
Our final interviewee and hero of the day was Sgt Kev Bowens. At the last minute Kev stood in for our regular firer of the One o'Clock Gun, Sgt Allison Jones or "Allison the Garrison" as she is affectionately known. Alison was  away on training that day but you can still see her in action in our video gallery. Kev gave listeners a glimpse of what it was like to be the person in charge of firing Edinburgh's famous time signal. He also gave listeners an insight into the history and significance of the firing of the gun, you can find out more in the Castle Highlights section of our website.
All last week on the Grant Stott Show there was also the chance to win a VIP trip to Edinburgh Castle including a private tour, Afternoon Tea in the Queen Anne Tea Room, the chance to meet the one o'clock Gunner and much more.
But don't worry, it's not too late to be in with a chance of winning this fabulous prize. Head over to the Forth One website to find out more.
Keir Booth
Edinburgh Castle 
(Images supplied by Graham Warman)