It's reigning queens at Edinburgh Castle!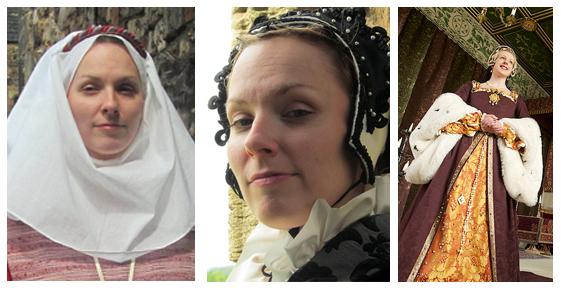 This week visitors to the castle will have the opportunity to hear more about three of Scotland's most iconic female monarchs of the past, Queen Margaret, Mary of Guise and Mary Queen of Scots.
On Tuesday 22nd come and hear the story of Queen Margaret. Sometimes referred to as the The Pearl of Scotland (as her name is originally from the Greek, margaron, a pearl) Margaret was an English princess of the House of Wessex.  She was born in exile in Hungary, returning to England in 1057.  However following the Norman Conquest of 1066 she fled to Scotland where she would go on to marry Malcolm III. She was a pious woman who carried out many charitable acts. She was also the mother of three Scottish Kings, Edgar of Scotland, Alexander I and David I.  She died at Edinburgh Castle in 1093, just days after receiving the news of her husband's death in battle. In 1249 she was cannonised by Pope Innocent IV and her remains were later interred in a shrine at Dunfermline Abbey where they remain today. The castle's St Margaret's Chapel was built in her memory by her son David I and remains the oldest building in the city.
On Wednesday 23rd and Thursday 24th Scotland's most famous monarch, Mary Queen of Scots, will be holding court in the castle's Great Hall.  Most people know her name and that she died at the hands of her cousin, Elizabeth I, but few know the details of this intriguing figure and her reign. Visitors will be transported to 1566 when Mary, gave birth to James VI, heir to the throne. There is great rejoicing.  The Queen will be holding an audience where visitors will have the opportunity to congratulate her and find out more about her fascinating life.  Don't forget you can see the recently refurbished Birthing Chamber where James VI was born in the Royal Palace.
And finally from Friday 25th through to Sunday 27th find out about another famous queen, Mary of Guise, mother of Mary Queen of Scots, from a lady of her household. Less well known than her daughter, Mary of Guise was one of the most formidable Queen Regents in Scottish history who fought off plotting nobles and political enemies to keep her daughter's regency alive.  Hear her story and how it intertwines with her famous daughters and discover how they both left their mark on the castle's history.
The events are included in the castle admission price.  Ask a member of staff on site or click here for more information.