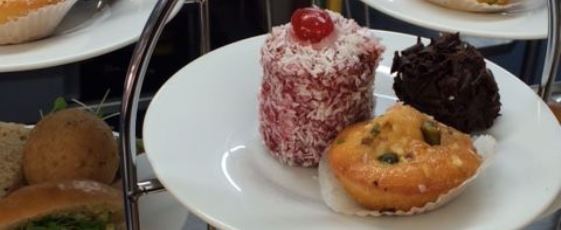 Everyone likes cake but at Edinburgh Castle we take our love of cake very seriously. We have a delicious variety of cakes, slices and tray bakes, from our delectable chocolate cake through to our lavender and apricot tart, YUM. Oh and let's not forget the scones. We make around 300 a day and in August we make double that! We are very proud of their mouth-watering quality, but we didn't want to settle at yummy we wanted to make them the best scones ever. As a result of a brainstorming session, we are now making our own dried fruit for the scones.
With all this in mind, our team of chefs at the castle came up with a new summer menu   for afternoon tea that will have people licking their lips.
Our menu showcases our fabulous cakes, made with the excellent products Scotland has on its doorstep. And to top it all off John McWhirter, Executive Chef, who is based in the historic kitchens of Stirling Castle created 3 delicious different cakes to complement the menu  Chocolate Indulgence, Castle Tower and Pistachio Elegance.
As for the sandwiches we are using Shetland's Finest smoked salmon and Scottish beef. Served on bread from Breadwinner Bakery which is an award winning bakery on the castles doorstep.
After exploring the castle, there is no better way to finished the day than by eating cake and drinking tea. Our afternoon tea menu encompasses all that we are about at Edinburgh Castle.
Until next time
Adrian Knibbs
You can now win an Afternoon Tea experience for two at Edinburgh Castle in our photography competition. Share your pictures about the "future of food" with us on Facebok, Twitter or Instagram using hashtag #HSEat until midnight on the 30th June 2015. More info.