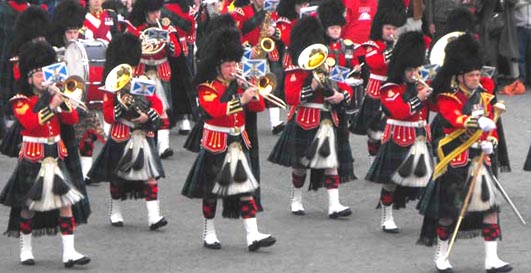 Edinburgh Castle has long been associated with the armed forces and to this day is still a working military base regularly playing host to our armed forces.
Last week 250 crew members were granted freedom of the city following the retirement of HMS Edinburgh, the Navy's last Type 42 Destroyer, nicknamed "The Fortress of the Sea" after its impenetrable namesake, Edinburgh Castle.
After the parade Edinburgh's Lord Provost received a picture of HMS Edinburgh in exchange for a trophy of Edinburgh Castle which will be permanently on display inside the ship.
As part of the celebrations senior steward Duncan MacCallum welcomed Royal Navy sailors from HMS Edinburgh for a special guided tour of the castle.
Also this week, ceremonial guards from the Royal Artillery will be standing guard on the castle's esplanade to mark the annual General Assembly of the Church of Scotland.
The guards are supported by a band from the Royal Regiment of Scotland each morning at 10am from now until Friday.  So if you're in the area come on up to the esplanade and witness this spectacle for free.
Our Castle is home to some of Scotland's finest military museums.  For more information explore the site and discover its fascinating past.
 
Roddy Telfer, Events and Promotion Executive
Edinburgh Castle