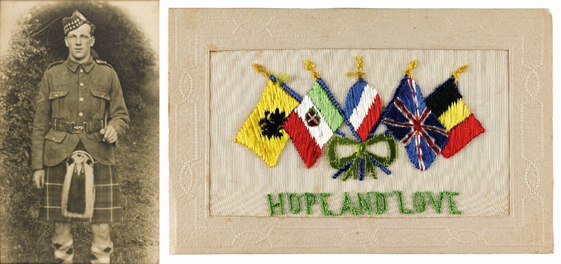 Opened on the 18th April, the National War Museum's Next of Kin is a new exhibition exploring the impact of the First World War on thousands of Scots, both in service and back home through a selection of treasured family keepsakes.
The First World War separated millions of people worldwide from their families and homes. For those who experienced the conflict first-hand, keeping objects was a way of remembering this extraordinary period in their lives.
The new exhibition features items including letters, medals and photographs as well as other, more unusual artefacts. Here are just some of the stories on display.

George Buchanan was killed in action on the first day of the Battle of Loos, 25 September 1915, aged 27. Born in Bathgate, West Lothian, he was a railway platelayer by trade. He enlisted as a volunteer in 1914, serving with 8th Battalion Seaforth Highlanders. He was one of thousands of casualties resulting from a costly battle where Scottish infantry battalions made up half of the British assault force. On display is an embroidered postcard and letter sent by Buchanan to his sister. He wrote his last letter on 11 September 1915.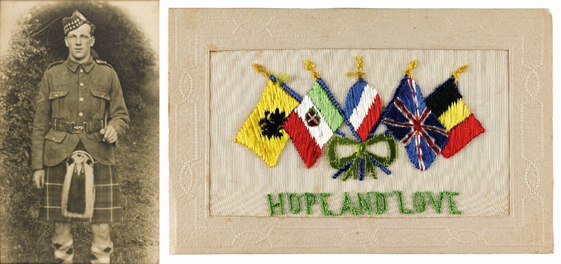 Florence Mellor, a Red Cross volunteer nurse, trained to administer first aid and care for recovering troops.  Her first work place, at Edenhall, Fife was a temporary auxiliary hospital set up in a large private house.  Patients often preferred these homely environments to the stricter regimes run in military hospitals. Nurse Mellor later worked at Craiglockhart War Hospital, which specialised in the treatment of officers suffering from psychological trauma as a result of their war experiences. On show is one of her autograph books, where she collected drawings, watercolours, verses, jokes and messages from the wounded soldiers in her care. This was a popular practice in war hospitals.
William Dick, serving with 1st Battalion Scots Guards in trenches near Ypres, Belgium in June 1916 was wounded in the leg by an enemy shell. His wife at home in Haddington, East Lothian, received a series of letters from his friend Corporal Stark which were reassuring at first. His leg had to be amputated but he was expected to recover.  However, four days after he was wounded, his condition deteriorated and he died. The letters and pictures from Corporal Stark to Mrs Dick provide a sobering insight into the fragility of life in WW1 trenches.
The Next of Kin exhibition runs until March 2015 with entry included in the general admission price. For more WW1-related events and activities at Edinburgh Castle, go to the events section of the website.