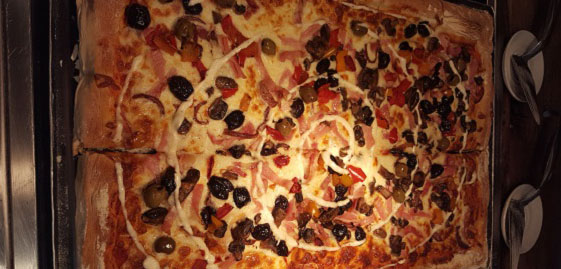 Who doesn't love pizza? We certainly do!  Pizzas are popular throughout the year at the castle and especially now it's getting cooler outside. In fact in the height of summer approximately 30 trays a day are eaten…which is roughly 300 slices! Clearly we are not the only people who love pizza!
We are not just talking about pizza for any reason … did you know October is the month dedicated to this scrumptious delight? To celebrate the month we caught up with our Pizza Chef, Darren. Please note, don't read this before lunch time…
1. How many kinds of pizza do we have in the Edinburgh Castle Redcoat Café?
We have several varieties to choose from – from the traditional Margherita to Scottish Salami! Below are the types that are served in the café:
Margherita- tomato mozzarella, olive oil, basil,
Scottish Salami – tomato, mozzarella, red pepper, scottish Salami
Parma Ham & Rocket- tomato, mozzarella, parma ham, cherry tomatoes, parmesan
Four Cheese – tomato, mozzarella, gorgonzola, taleggio, parmesan
Roast Pepper & Bacon- tomato, mozzarella, roasted yellow and red peppers, black and green olives, mushrooms, bacon, garlic mayo.
2. What is the most popular pizza in the Redcoat Café?
The most popular option is the traditional Margherita although having said that you are lucky to see slices left of any variety at the end of the day!
3. What's your favourite pizza?
My favourite pizza is the roast pepper and bacon as its variety of ingredients makes for such a delightful taste and also it is visually beautiful with its bright colours!
4. How do you make the perfect pizza?
Our pizza oven is a gas fired, stone based oven that fires the pizzas at approx 260 degrees, the pizzas are cooked using a three stage process, firstly cooking the base with the tomato sauce, letting it stand, then adding toppings and cooking fully.
We certainly don't need the encouragement to celebrate this month! If you are visiting us in October make sure you head to the Redcoat Café for a slice!
Find our fabulous Redcoat Cafe exclusively at Edinburgh Castle,