Once upon a time, in a castle not too far away…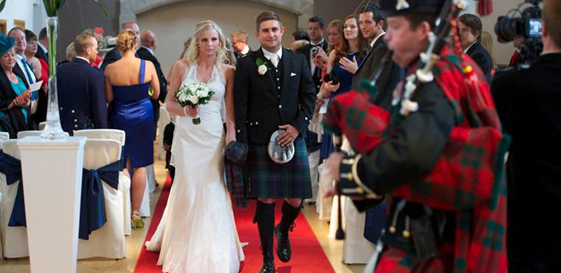 On the 19th of October Edinburgh Castle will once again open its doors to happy couples for our bi-annual wedding open day. This week we thought we would share with you the story of Danny and Emma who recently got married in the castle.
Our Story – Danny & Emma
After being together for just over 10 years, Emma and I were looking for the perfect venue to commit our lives to one another. While I have lived in Edinburgh all my life, Emma moved from the Scottish Borders to the city around 15 years ago.
I always dreamed of getting married at Edinburgh Castle, but thought it was only reserved for royalty and public figures. Emma meanwhile had always pictured her perfect fairy tale wedding in a historic castle, but never once thought she would find a venue in the very heart of Edinburgh.
After viewing several other venues I jumped at the chance to visit Edinburgh Castle's Wedding Open Day. Upon entering the Queen Anne Room, I realised that the castle was the perfect setting for our wedding. During the planning process, we were supported by Edinburgh Castle's Event Sales Manager, Lynn Paddock.
Throughout the preparations Lynn proved to be invaluable. She did all she could to make our special day perfect, from menu-tasting to ceremony and reception decoration, to recommending a band and acting as announcer throughout the day. Her attention to detail was immaculate and her confidence and calm persona allowed us to relax knowing that she was looking after us and in control of the day.
On June 23rd, 2012, Emma stepped out of her wedding car next to St Margaret's Chapel with her father, only for a gust of wind to sweep her veil off her head in front of a crowd of tourists who were gathered nearby to catch a glimpse of a real Scottish wedding. That brought a smile to Emma's face, a smile that did not disappear for the rest of the day.
The wedding ceremony, conducted by a humanist minister, was both romantic and personal. Only a handful of our close friends and family were there. Candles and flowers along with the venue decorations made for a beautifully intimate ceremony. From the bagpiper to the sparkling chandeliers, to the fireplace and furniture dressings, the ceremony was a truly special and moving occasion in a unique, historic location, which made it all the more memorable for for everyone attending.
Following the ceremony the hall was transformed into the venue for the evening meal and reception. During this time, guests were allowed to tour the Scottish Crown Jewels while the wedding party were given access to the Great Hall, which allowed for some stunning wedding photography to be taken by Tony Marsh.
The reception then followed, with exquisite food comparable to a top restaurant using fresh local produce. The menu and options available were extensive and our final decision proved popular as guests enjoyed their three course dinner following some quirky aperitifs. After dinner, the party really began. The Queen Anne room became the place for dancing and celebrating into the small hours. For those who didn't fancy the ceilidh or the band, the modern bar area proved popular.
The outdoor courtyard, surrounded by some of the most spectacular buildings within the castle, was another popular area for guests to enjoy some fresh air and take in some of the stunning panoramic views from the castle walls.
We experienced an unforgettable day at Edinburgh Castle and recall our special memories to everyone we met on our journey as husband and wife. It was thanks to all of the staff at Edinburgh Castle, who, combined with the stunning location and venue, helped make this the perfect fairy tale wedding.
To book your visit to the castle on 19th October for our wedding open day call our dedicated events team on +44 (0)131 668 8686, or visit the website here. As well as being able to view our various venue options, couples will be able to meet with florists, cake makers, bands and photographers to give them ideas for their big day.
Keir Booth, Marketing Executive
Edinburgh Castle