Pear & Chocolate Loaf recipe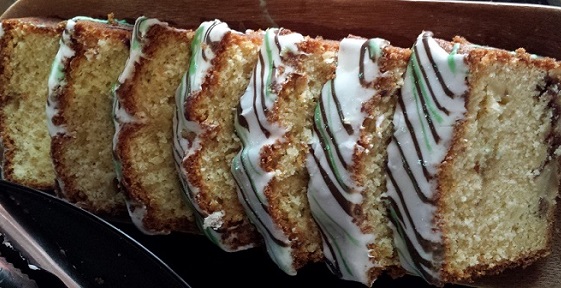 And here's what she has been up to since we met her in our last blog:
The new cakes are keeping me very busy indeed and the oven is constantly full. Our carrot cakes are flying out and the new lemon drizzle loaf is catching up fast as the The Tearooms' best sellers. This month, we're sharing a recipe with you, that the staff at The Tearooms have nominated this as their favourite. It is so easy to make, you'll all be expert bakers in no time!
Pear and chocolate loaf
You'll need:
Oven on 160°C fan, 180°C conventional
Large loaf tin (2 lb. size) lined with greaseproof paper
Electric whisk, or a regular whisk and a strong arm
Ingredients:
140g Caster sugar
140g Melted butter
140g Self-raising flour
3 Eggs (large)
50g Dark chocolate drops, or a bar chopped into small pieces
2 chopped pears (fresh or tinned)
Method:
Whisk the sugar and the eggs together for a minute on a medium speed until well mixed.
Add the melted butter and whisk again until it thickens slightly.
Sift in the flour, add the pear and chocolate and stir gently until all combined.
Tip into your lined tin and bake for 35-40 mins in the middle of the oven.
Test with a skewer
Leave to cool in the tin for 15min then remove.
Why not buttercream on the top of and some chocolate drizzle? Now make a lovely cup of tea and admire (and of course taste) the results!
Red's baking tip of the month:
To get the best performance out of your oven, invest in a good oven thermometer.  Domestic ovens are not the most accurate, baking really good sponges is a breeze at the correct temperature. Move it up and down the shelves to work out where best to position your baking.
We would love to see your photos of you baking or even eating this delicious recipe @edinburghcastle #edinburghcastle – next time you're at the castle don't forget to stop in to try some of her delicious treats!