People Behind the Processes: The Designer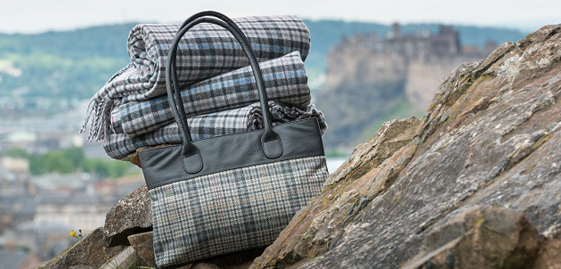 This is the third in our series on the 'People Behind the Processes', where we go behind the scenes with our new Edinburgh Castle Tweed. Today we go behind the scenes with Victoria, the Designer at Knockando Woolmill.
From Edinburgh to Moray
I'm passionate about Scottish textiles, so it was great to help create a new design for such an important site in Scotland's history.
I now live up north in Moray, a short distance from Knockando Woolmill, but I was actually born in Edinburgh. This project to tell the story of Edinburgh Castle through tweed really meant a lot to me.
I worked with Historic Environment Scotland (HES) from the start to create a design which worked with the city-scape of Edinburgh. Since the castle is bang in the centre of Scotland's capital, we gave it a city feel. It felt right to give the tweed a contemporary twist.
The inspiration for the colours came straight from the site. We looked from the cool grey castle walls and cobblestone lanes to the stormy Scottish skies. We brought in the blue waters of the Firth of Forth, and the gold and burgundy of the castle's royal connections.
The strong tartan feel of the tweed design adds to its Scottish roots, while ensuring it has a unique identity.
Tweed Through Time
Having said that, Knockando is a heritage mill, so it's really important for us to keep our legacy alive too. Much of the machinery we use dates back to Victorian times, and the skills we rely on have been passed down through generations.
You may be surprised to find that much of the computerisation that takes place at modern mills is not used at Knockando. Everything we produce is down to the hard work and craftsmanship of our talented team.
We hope this tweed, with its modern and traditional elements, will now become part of the Castle's history.
Find our fabulous Edinburgh Castle Tweed exclusively at the Edinburgh Castle shop, in-store and online.
Meet some of the other people behind the processes, the Marketeer and the Buyer.