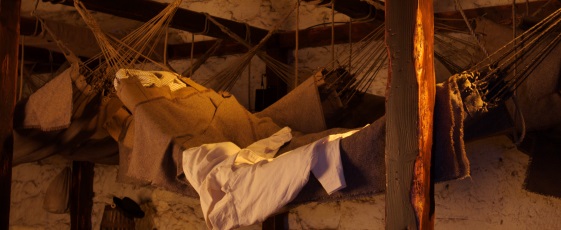 This Friday, 13 November, is Robert Louis Stevenson day. Born in Edinburgh 165 years ago, Robert Louis Stevenson has become one of the nation's best loved writers. Famous for his stories of daring and adventure, like Kidnapped, Treasure Island and The Strange Case of Dr Jekyll and Mr Hyde , Stevenson now ranks amongst the most translated authors in the world.
Every year Edinburgh, the city of Robert Louis Stevenson's birth, celebrates RLS's life and work with a host of events from walks to tea parties and film screenings to stage shows as part of RLS Day. You can find out more and take part online here: www.cityofliterature.com/rlsday
Several of Stevenson's stories play out within the walls of Edinburgh Castle – in particular, a rollicking romp of a book called St Ives. Not one of his best remembered works, the novel begins with French prisoners, held captive in Edinburgh Castle. Narrated by one of them – the St Ives of the title – it tells of the disreputable state of the French troops.
'Into the Castle of Edinburgh, standing in the midst of that city on the summit of an extraordinary rock, I was cast with several hundred fellow-sufferers, all privates like myself, and the more part of them, by an accident, very ignorant, plain fellows' … 'indeed, you could have seen our army nowhere more discreditably represented than in this Castle of Edinburgh.'
The prisoners plot a daring escape, tying together bed sheets to form a rope that will lower them over the castle walls. St Ives narrates
'The time for our escape drew near, and the nearer it came the less we seemed to enjoy the prospect.  There is but one side on which this castle can be left either with dignity or safety; but as there is the main gate and guard, and the chief street of the upper city, it is not to be thought of by escaping prisoners.  In all other directions an abominable precipice surrounds it, down the face of which (if anywhere at all) we must regain our liberty.'
He goes on to tell us that
'We had made out to pierce below the curtain about the south-west corner, in a place they call the Devil's Elbow.  I have never met that celebrity; nor (if the rest of him at all comes up to what they called his elbow) have I the least desire of his acquaintance.  From the heel of the masonry, the rascally, breakneck precipice descended sheer among waste lands, scattered suburbs of the city, and houses in the building.  I had never the heart to look for any length of time—the thought that I must make the descent in person some dark night robbing me of breath; and, indeed, on anybody not a seaman or a steeple-jack, the mere sight of the Devil's Elbow wrought like an emetic.'
Bowl-churning as well as hair-raising! Later, trying to impress a young lady, St Ives says
'My dear Miss Flora, you cannot make an omelette without breaking eggs,' said I; 'and it is no bagatelle to escape from Edinburgh Castle. One of us, I think, was even killed.'
Visit us at Edinburgh Castle to explore our Prisons of War exhibition, which shows what life was like for those captured and imprisoned within the castle walls.