Raise a pint for the castle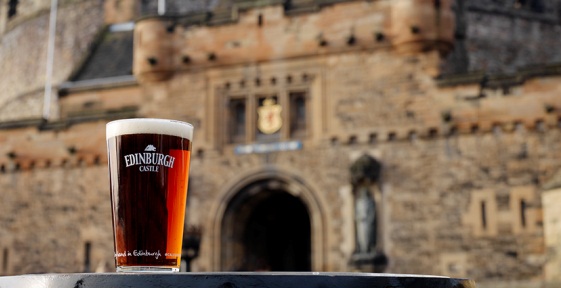 This week sees the launch of Edinburgh Castle 80/-, a new beer produced in partnership with Edinburgh's Caledonian Brewery. The launch of the first official Edinburgh Castle beer is extra special during the Year of Food and Drink 2015, which celebrates and promotes Scotland's vast larder of quality produce. Both the castle and the brewery are known throughout the world and this new collaboration will see the image of the castle proudly displayed on cask beer pumps across the nation.
To celebrate this launch we thought we'd take a look at the history of beer at Edinburgh Castle – here are some of the findings:
Mead on Castle Rock
A band of warriors heroes spent a year drinking mead in a hall on the Castle Rock some 1,400 years ago. They then rode into England to fall in battle. The warriors' heroic exploits are retold in Y Gododdin, the oldest surviving poetry from what is today Scotland.
A Royal Brew
The medieval castle had its own brewhouse to supply the demands of a thirsty royal household. It was rebuilt by Queen Margaret Tudor in 1515, a couple of years after the completion of her husband King James IV's magnificent great hall. But there had doubtless been one there for centuries – the brewhouse was an essential part of every medieval castle. The one at the castle had to supply sufficient ale to meet the demands of the extensive royal household and was in constant use.
A servant working for the royal family was given a daily allowance of a joug or Scottish pint of ale – 1.7 litres or about 3 imperial pints.
Ale was consumed by everyone at the castle – even by children.
Ale was safer to drink than water and was an essential part of everyone's diet, from kings to commoners.
A Surprise Beer Delivery 
In 1341, hardened English soldiers were holed up inside a seemingly impregnable Edinburgh Castle. But a group of Scottish warriors tricked their way into the stronghold disguised as merchants delivering a consignment of beer. During the ensuing battle, the Scots rolled barrels into the onrushing English and ultimately recaptured the stronghold.
A Taste for Beer
When the 78th Highlanders marched into Edinburgh Castle in 1838 after a long posting in Sri Lanka, their pet elephant marched in with them. The animal soon developed a taste for beer. Each evening, it reached its trunk through the canteen window to get its drink before walking back to the stables to sleep it off. The elephant's toes are displayed in the National War Museum within the castle.
From Easter 2015, bottles of Edinburgh Castle 80/- will be available from our very own gift shops.