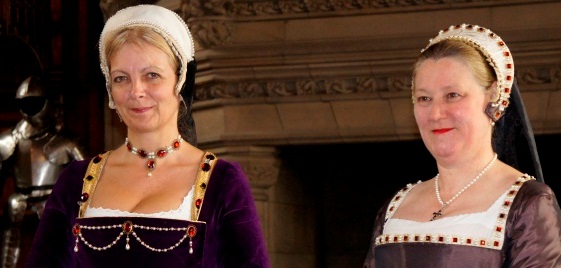 In Renaissance Europe, clothing marked out the rich and powerful. This wasn't just a matter of unspoken understanding – there were actual laws stating which fabrics and finishes people of different ranks could wear. They were called 'Sumptuary Laws'. We know that one was passed while Mary was Queen of Scots, because the English ambassador Thomas Randolph wrote a letter mentioning the new Scotch laws 'about wines, great hose and costly apparel' in 1563.
Mary Queen of Scots had over 50 gowns, and each would have been lavishly decorated with jewels and threads of gold and silver. Women's clothing could be combined in many different ways, so these 50 gowns could be styled in a wide variety of fashions.  When Mary Queen of Scots got married in France, she insisted on wearing white, even though it was traditionally seen as the colour of mourning. Because of this, she became known in France as 'The White Queen'. Clearly her fashion-sense was ahead of its time!
We regularly welcome Renaissance Ladies, wartime re-enactors and medieval archers to the castle to tell visitors all about historic fashion and more – keep an eye on our website for details.
And afterwards, you can pop by the Crown Gift Shop for some gift inspiration from local designers!