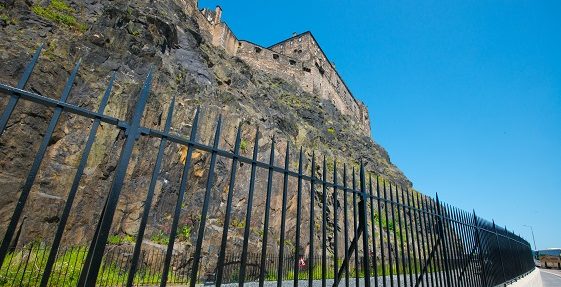 Even the infamous Jacobites tried to scale the castle walls however failed due to not bringing a long enough ladder!
Nowadays we don't have these contenders however cold and harsh winters (yes we are in Scotland) can cause damage to the rock face.
We caught up with Bruce Chandler, our District Architect – here is what he had to say:
Although the fabric of the castle, which has been added to over the centuries, has actually helped to stabilise and protect large parts of Castle Rock, the exposed slopes below the walls on the north, west and south continue to be degraded by frost, rain, wind, and vegetation growth, and occasionally loose fragments succumb to the forces of gravity.

Regular inspections, and rock scaling by our trained staff, reduce the level of risk, but eliminating the risk entirely is not possible, and some areas have required a more pro-active approach.
Don't worry the castle is impenetrable as ever! A new feature has recently been installed – the rock trap. You guessed it, the new installation collects rocks, and ensures that anybody using Johnston Terrace is a safer distance from the rock face.
The new stone boundary wall, topped by iron railings, runs parallel to the old boundary, but on what was the centreline of the road, thus giving space for a gravel filled rock trap, which is designed to catch any falling debris.
It's all rock and roll at Edinburgh Castle!