Royal Birthing Room to get a Royal Makeover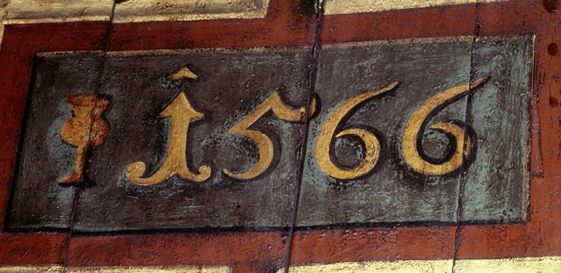 Now that the Earl and Countess of Strathearn, as the Duke and Duchess of Cambridge are known in Scotland, have announced the safe arrival of Prince George of Cambridge, Edinburgh Castle has revealed it will be having a  makeover of its very own Royal Birthing Room.
The tiny bed-closet where Mary, Queen of Scots gave birth to James VI in the royal palace on 19 June 1566 is a room with a very special significance for Great Britain, as James VI was to become James I of England in the Union of the Crowns in 1603.
Visitors can still see the doorway in Crown Square decorated for the event with a gilded panel bearing the date 1566, and the intertwined initials of Mary along with those of her husband Lord Henry Darnley.
This door leads to Mary's spacious inner chamber, perched high above the Royal Mile, where her bed was hung in blue taffeta and velvet – this was her 'presentation' bed, as opposed to the bed in the tiny Cabinet in which she actually gave birth to the future James VI.
The midwife, Margaret Asteane, was generously equipped with a new gown of black velvet, and a cradle was prepared with expensive fabric.  After a long and difficult labour, the baby was safely delivered with a fine caul (birth membrane) over his face, considered at the time be a sign of good fortune.
Just as today, the birth of a royal heir prompted great rejoicing with five hundred bonfires lighting up the Edinburgh night sky, James VI's baptism was celebrated at Stirling with the first recorded fireworks display in Scotland.  In 1617 he returned to Edinburgh to celebrate his 50th anniversary as King of Scots, and made an emotional visit to the Birthing Room, which was especially redecorated for the visit.
Conservation work in the Royal Birthing Room is due to commence shortly and will involve the careful and delicate retouching of paint on the panelled wooden walls and ceilings which feature Royal Coats of Arms.
Keep updated about the works in the Birthing Room and news from Edinburgh Castle by subscribing to the blog, and follow Historic Scotland on Twitter and Facebook for news on this and much more.
Roddy Telfer, Events and Promotion Executive
Edinburgh Castle