Royal Edinburgh Military Tattoo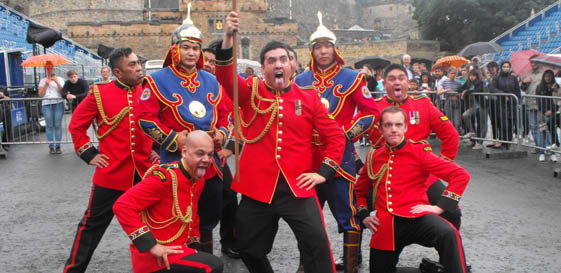 This Friday, the World famous Royal Edinburgh Military Tattoo will celebrate the Year Of Natural Scotland and "Our Wonderful World". Over 220,000 visitors will witness a unique and truly spectacular event with pipers and drummers from all over the globe, performing on the historic Edinburgh Castle Esplanade.
The Four Seasons, Night and Day, Life and Death will be showcased to mark the extraordinary diversity of our planet, with over 80 different musical items. The show will start with children from Erskine Stewart's Melville College and actors from Lyceum Youth Theatre simulating a volcanic lava flow.
Yesterday we had a sneak preview of the launch for the 64th Tattoo with bands from New Zealand, Mongolia and Mexico marking each of the seasons. 
The theme of summer is marked by the Monumental Jaguares Marching Band, the Mexican Folk Dance Company Tenochtitlan, and Mariachi Oro de Mexico. Autumn is celebrated by the New Zealand Army Band paying tribute to Maori Haka and winter is celebrated by the Central Orchestra of the General Staff of the Mongolian Armed Forces. The Republic of Korea will mark the 60th anniversary of the end of the Korean War by showcasing Spring. 
These acts will be joined by the Black Watch, 3rd Battalion, The Royal Regiment of Scotland, The 1st Battalion Scots Guards, The 1st Royal Tank Regiment, The 1st  Battalion The Royal Irish Regiment, the Wallace Pipes and Drums Malta and The Pipes and Drums of The Royal Guard of Oman.
Bands of the Irish Guards, the Royal Logistic Corps and The Rifles join the Massed Military Bands against projections of indigenous flora and fauna.
Joey from the award winning production of War Horse will feature in a Parade of Animals whilst NASA imagery and synchronised fireworks will be used to highlight and showcase how vast the planet is.
Tickets are exceptionally limited with 95% of seats for the 24 performances already sold out. For further information and to book tickets visit The Royal Edinburgh Military Tattoo website.