Shortbread without Shortcuts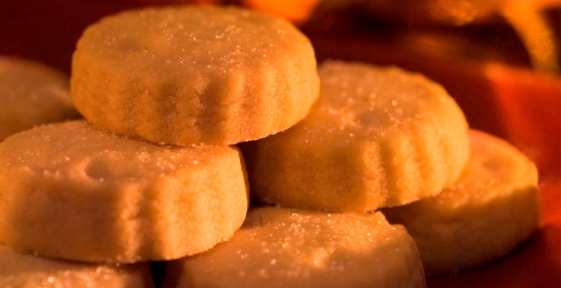 Do you like shortbread?
We were recently invited to visit the Shortbread House of Edinburgh, who make our premium Edinburgh Castle shortbread, which is sold in our Crown Gift Shop.
The bakery, who uses the phrase "shortbread without shortcuts" was originally founded by Anna Wilson, a retired teacher, before being bought by Anthony and Fiona Laing in 1989.
During the visit, we asked their son Rupert, who showed us round, what benefits there were to making the shortbread by hand instead of mass producing. He explained that hand cutting makes each piece unique and as it doesn't compress the dough, the shortbread has a better texture and taste.
Depending on the shape and type of shortbread, it's baked in different types of ovens. The best time to cut finger shortbread is halfway through the baking process, when it's taken out of the oven and cut by hand. Once it's fully baked the shortbread is finished off with the traditional sprinkle of sugar.
The shortbread is then weighed and wrapped before being boxed or put into tins ready to be dispatched. Each batch is made to order to ensure its freshness, and having tried and tested the product, we can certainly agree that it measures up to our strict scrutiny!
Treat yourself to some tasty shortbread the next time you are visiting the castle!