Staff share their castle highlights…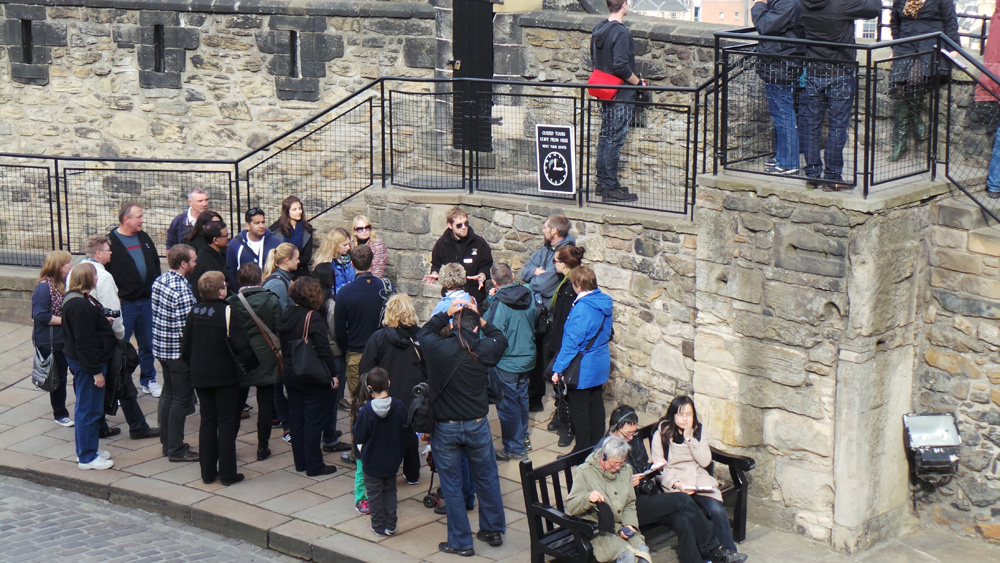 This week Edinburgh Castle welcomed its one millionth visitor of the year, a remarkable achievement considering we have only just entered October. It's been a busy year for the whole castle team. With another record breaking summer season under our belt we thought we would take some time out to catch up with the team and reflect on what makes working at the castle so special.
The admissions team is the first to greet the visitors who cross the drawbridge to the castle. Admissions assistant Andrea Bartlett loves inspiring visitors with tales of Scotland's past and pointing out parts of the castle not to be missed. For Colin Chisholm, one of our excellent castle guides, it's all about meeting people from around the world.
Many of the team consider the view from Edinburgh Castle to be the best thing about working at the castle, and who can blame them? The views from the battlements are outstanding. Unless of course, you are visiting when the 'haar', rolls in. Dramatic panoramic views greet you wherever you look but the view to the north in particular is amongst the most spectacular in Scotland.
Some of the most impressive views come once the castle closes its doors. The Lang Stairs, once the main route to the heart of the castle, provides one of the city's best vantage points to watch the sun setting over Edinburgh, according to Linda Paxton in the Events team.
Another favourite amongst the team is the Scottish National War Memorial. Designed by architect Sir Robert Lorimer, the cream of Scottish artists and craftspeople took part in its creation. This is Scotland's memorial to those who made the ultimate sacrifice during First World War. The building now also commemorates those who fell in the Second World War and in military campaigns since 1945.
Caroline Part who also works in the Events team has a slightly unusual favourite – The Dog Cemetery, which since the 1840s  has served as a burial place for regimental mascots and officers' pet dogs including Dobbler, who up until his death in 1893 followed the Argyll and Sutherland Highlanders to such exotic locations as China, Sri Lanka and South Africa.
For many at the castle including Bruce Guthrie our Admissions Manager and castle guide Mark Kernberg it's colleagues that make the castle such a special place to work.
Now you've heard from the castle team, we'd love to hear from you. What's your favourite part of the castle? Let us know via Facebook and Twitter (@edinburghcastle) or through the comments section below.
Keir Booth, Marketing Executive
Edinburgh Castle