Staff Spotlight on…Lesley Stewart (Castle Guide)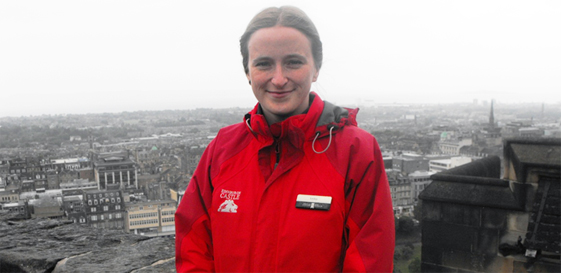 Our team of Castle Guides play a key role in the continued success of Edinburgh Castle. It's their knowledge and passion that ensures the castle remains a world class welcoming venue to our annual 1.3 million visitors.
I caught up with Lesley Stewart, who has worked as a guide for 5 years, and asked her a few questions about her time at the castle on a dreich Scottish afternoon…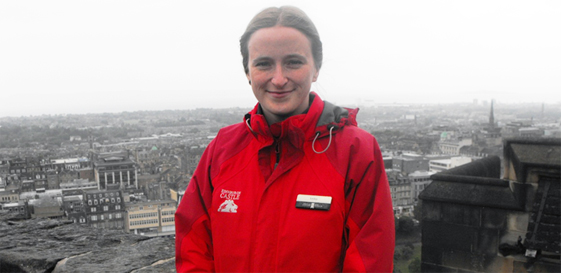 Tell us a little bit about your role as a guide.
Each day is always different and so this keeps the job interesting. I work in all areas of the castle from inside the prestigious Crown Room, or outside at Mills Mount. I even demonstrate weaponry in the Great Hall as part of the daily events program.
Some of our other tasks are looking after the buildings, leading guided, educational and VIP tours, helping with government, corporate and army events in the Queen Anne Tea Rooms, Jacobite Room and Great Hall, as well as private pre-opening tours and weddings and baptisms. There's always lots to do!
The guiding team are on duty to make sure our guests are well looked after and without them these events couldn't happen.
What do you enjoy most about working at the castle?
Probably the challenge of trying to communicate the intricate history of the castle to the different kinds of people. For example I have to able to make the history of the Stone of Scone (Destiny) interesting to people who may already know a lot about it as well as making it interesting to a young child at the same time.
What's the best part about being a guide?
I get to meet people from all over the world and get paid to talk to them! I like the challenge of trying to gauge who I am talking to and judging what parts of the castle's history that they would find interesting. I like to customise my tours depending on the audience.
Do you have a favourite part of the castle?
My favourite part is the Scottish National War Memorial for Scotland. It is a very impressive building and I feel proud to work there.
What is the strangest question you've been asked by a visitor?
I get many to be honest but equally I get some really tough questions too. Very often visitors ask how to get into the castle when they are actually already inside! I have to explain that Edinburgh Castle is made up of lots of buildings-it wasn't just a palace, it is a fortress.
I get asked all sorts of questions from our visitors, so my knowledge of the castle and Scottish history generally has to be strong. The questions vary which can be challenging, but we generally always find the answers to them!
It is the hard work and professionalism of Lesley that typifies the guiding team, without them a visit to the castle just wouldn't be possible!
Roddy Telfer, Events & Promotion Executive
Edinburgh Castle