The castle's pyrotechnic history!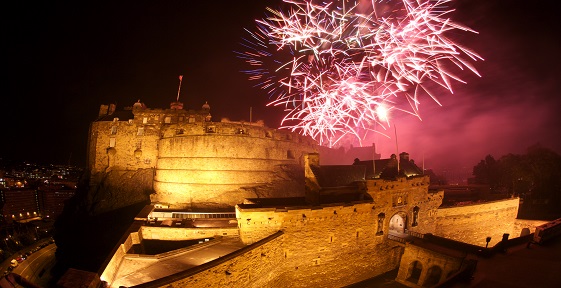 As the Edinburgh Festival slowly draws to a close, we are preparing for the spectacular Virgin Money fireworks display. The display will be choreographed with the beautiful sounds of the Scottish Symphony Orchestra and begins tonight (Monday 31st August) at 9.30pm.
A recent research project has revealed that Scotland's first recorded fireworks were staged at Edinburgh Castle in 1507. They were part of a lavish tournament staged by King James IV at the base of castle rock. The Lord High Treasurer's records note a payment for 'thread for fireballs, quicksilver (mercury) and other small stuff' – the ingredients needed to make the fireworks.
Thirty years later, another royal occasion was celebrated with fireworks: Queen Madeleine's arrival in Edinburgh after her marriage to King James V in 1537. This time, the records give more detail as to what went into the display, which featured Catherine wheels: 'thread, mercury, saltpetre, sulphur, oil, petrol, turpentine, aqua vitae, canvas and wheel-rims'. Madeleine fell ill so the celebrations were cancelled but at least some of the fireworks were set off anyway.
Three years later, in 1540, James V helped devise a fireworks display to celebrate the coronation of his second wife, Mary of Guise – mother to Mary Queen of Scots.
It is wonderful that more than five centuries on, the castle remains the backdrop for spectacular displays including The Royal Edinburgh Military Tattoo, The Festival and, of course, Hogmanay.
Tonight, wherever you may be in the city, there's no doubt that you will catch a glimpse of the night sky been illuminated with the wonderful pyrotechnic displays from the castle!
Why not share your photos from the night on our Twitter, Facebook page or Instagram pages ?
We'd love to see your pictures from the night.