The Evolution of a Guidebook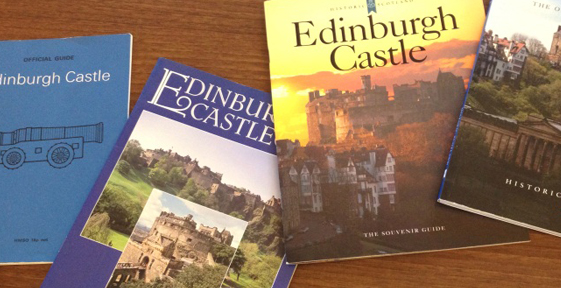 Ever since the first of our species slithered, gasping and bug-eyed, from the primordial slime, we guidebook editors have been keenly alert to the importance of evolution.
This week a completely new Official Souvenir Guide for Edinburgh Castle has been launched, replacing the previous edition produced in 2008. I consign it to obsolescence with some wistfulness, for it was my first project on joining Historic Scotland.
The old guidebook looked grand when it came out, but lately … not so much. I mean no criticism of the designers by this. Graphic design dates rapidly in our culture, with its relentless, shape-shifting barrage of visual stimuli. The style scheme to which the older guidebook belongs was developed nearly 10 years ago. That's close to a lifetime in design years.
Mindful of this, I decided to take a comparing-and-contrasting glance back over earlier models.
The earliest 'Guide to Edinburgh Castle' I have been able to locate carries no publication date, but it was produced during the reign of George V (1910–36). The reference to the 'new' military hospital (built in 1898) also offers a clue. Pocket-book sized, and sparsely lustrated with black and white engravings, it also carries a large folded 'Genealogical Table': the family tree of the current king.
Oddly, 22 pages are devoted to a Life of Mary Queen of Scots, while a very brisk history of the castle occupies just five pages. The remaining 15 pages contain a guided tour, with a strong emphasis on Mary connections. Meanwhile the Honours of Scotland are given a scant five lines, though they do include reference to a book on the subject by Sir Walter Scott, available exclusively in the Crown Room.
By 1929, this booklet had been replaced by a more business-like 'Official Guide', jointly written by J.S. Richardson, Inspector of Ancient Monuments and Marguerite Wood, Keeper of the Burgh Records. At this point, a fold-out map had been included, together with a black and white photo of St Margaret's Chapel and an illustration showing a proposed defensive forework of the 1690s, which was never built. The cover is plain grey, illustrated only with the Royal Arms.
Despite its austere appearance, this book contains a lively, 36-page account of the castle's buildings and history, without bogging the reader down in too many technical terms.
The Richardson/Wood booklet remained in use, with minor modifications, at least until 1974. Its price rose during that time from 6d in the old money to 16p in the new. The most recent reprint I can find has a bold blue cover decorated with a nice line drawing of Mons Meg, and inside there are six pages of black and white photos.
A revolution occurred during the ensuing decade. By 1986, an entirely new guidebook had appeared, abundant with colour photography and illustrations. It had only 32 pages, but they were much larger – and the design was much more adventurous. There was also a new text (by Richard Fawcett, Iain MacIvor and Bent Petersen). To be blunt, the photos look washed-out by today's standards, and the design shows its age – but in evolutionary terms this was the equivalent of growing opposable thumbs.
Nearly ten years elapsed before the next edition appeared in 1994. This one was written by Chris Tabraham, who was then our chief guidebook writer and editor. Chris's emphasis was on friendly tone and accessibility to the general public – values on which we still set a great deal of store.
The 1994 edition also introduced some very nice reconstruction illustrations by David Simon, and some lovely archive illustrations, like the one of 19th-century ladies inspecting the Honours of Scotland. By now we were up to 48 large pages.
Even larger was the 2003 edition, with 64 expansive pages, full-colour photography throughout and fold-out flaps on the front and back covers. Given more space to play with, Chris Tabraham completely re-wrote the text, introducing more information and more imagery. The design has of course aged, but this was a very respectable-looking book, which retailed for £4.95.
Just five years later, though, it was radically redesigned, to bring it in line with our revamped Official Souvenir Guide brand, and to mark the opening of the new ticketing operation. The text was still by Chris Tabraham, this time edited by yours truly. The design was slick and inventive. It looked great. For a few years. And there was new research to include.
Time for a fresh approach and here it is! The latest guidebook, now available at Edinburgh Castle, is a departure in all kinds of directions. There's a new text, mostly written by Peter Yeoman and drawing on the new research. There are terrific new photos and illustrations. The design is a radical departure – and very arresting, if I may say so. We've even changed the shape, the size and the type of paper. Plus, it's fatter than ever, at 80 pages.
We sure hope you like it.
Andrew Burnet
Historic Scotland Content Editor and Standards Manager