The Grandeur of the Great Hall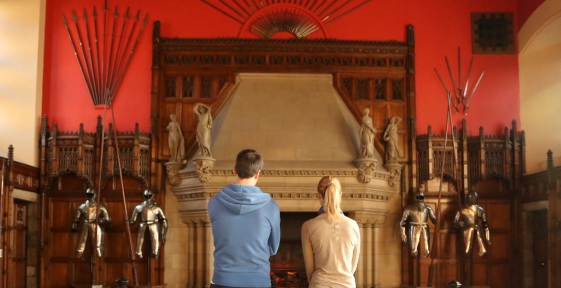 Here on the blog we are looking at the Great Hall, a popular place in the castle to visit. This magnificent building was completed in 1512 built for James IV and its main purpose was to serve as the chief place of royal ceremony in the castle.
On entering the first thing that will catch your attention is the marvellous hammerbeam roof. According to scientific analysis the wood used to create the roof was felled in Norway and then shipped to Edinburgh.
Today the Great Hall is home to a wonderful collection of armoury and weapons including spears, Lochaber axes, cavalry swords and pikes.
The Great Hall has quiet a history and held many a banquet. One night in September 1561, Mary Queen of Scots who had recently returned from France, slipped into Edinburgh Castle and devoured in a delicious dinner with her court and nobles. On her departure, guns fired to salute her as she made her way down the Royal Mile to Holyrood Palace.
Currently in the Great Hall to mark the 200th anniversary of the Battle of Waterloo, we have two rare Regimental Colours or flags which are 200 years old and on display until 31 August 2015.
Tickets can be bought in advance to your visit here.