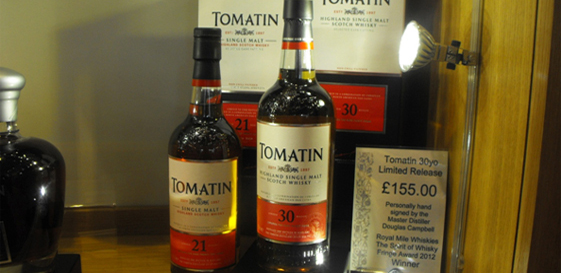 Nestled within the walls of Edinburgh Castle between St Margaret's Chapel and Foog's Gate sits our Whisky and Finest Food Shop where we house some of the world's finest bottles of Scotch Whisky. Our specially trained staff are on hand to share their stories and provide expert advice for Whisky enthusiasts, from novice to connoisseur.
Ian with John Walker and Sons Voyager
Pictured above is Ian, our resident expert, holding the John Walker and Sons Voyager, our latest edition to the cabinet and newest super-premium release from Johnnie Walker. This luxury blended malt, created using three carefully selected single malts and married in European oak casks is based on the notes of Alexander Walker, son of John "Johnnie" Walker, who inherited the company in 1857.
Other notable bottles to grace our cabinet shelves include the Highland Park Orcadian Series Vintage 1964 which was released in November 2009. The 1964 Vintage is the rarest expression of the Orcadian Vintage Series with only 290 bottles ever released.
Highland Park Orcadian Series Vintage 1964
Just recently, in honour and celebration of Her Majesty's Diamond Jubilee, the Directors at Gordon & MacPhail released 85 decanters of Glen Grant 60 Years Old which sold for £8000. Now there's an expensive dram. But with miniatures starting at only £3.50 fear not, we cater for all budgets and tastes.
There are tastings and events taking place within the shop all the time so be sure to pop in past when you're next up at the castle for some expert insight into Scotland's most famous drink. For up-to-date news on our pop-up events, daily goings-on and more you can follow us on Twitter @edinburghcastle.
This week inside the shop you can try a wee dram of Stags Breath, a light liqueur of special character produced from fine whisky and fermented comb honey in the ancient Lordship of Badenoch, the very heart of the Scottish Highlands.
Sláinte!
Roddy Telfer, Events and Promotion Executive
Edinburgh Castle
EDIT: The whisky tasting masterclass scheduled for the 15th of August has been cancelled. Sincere apologies for any inconvenience.