There is something for everyone!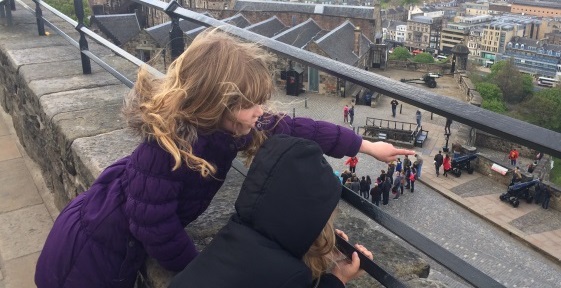 Edinburgh Castle is one of those historic sites that you can never visit enough. Over the years I've been here with school, on my own, with my wife and then more recently with our young kids. Each time I – and whoever I'm with – has got something different from the experience and this visit was no exception as I returned with my two young daughters, my wife and my 82-year-old mum.
At first, the idea of bringing my mother –who struggles with walking these days – up to the castle seemed as daunting as this mighty fortress must once have seemed to would be attackers. What about the steep slopes and the narrow stairways? I needn't have worried.
Some proper thought has clearly gone into making Edinburgh Castle more accessible. First up with my mother's 'blue badge' we were allowed the rare privilege of being able to park right up on the Esplanade next to the grand drawbridge into the castle. My mother said she felt like royalty and she was soon treated like it. We hadn't pre-booked, but they seamlessly arranged a transport right to the top of the castle through a 'secret tunnel', which my young daughters loved. I hiked up and by the time I got there they had arrived along with a wheelchair.
The assistance didn't end there. Along with wheelchair ramps into various parts of the castle there was also a special lift to take people in wheelchairs up to see the Crown Jewels. My mum joked with the lovely French Historic Scotland staff member who helped us that she 'just wanted to skip the queues to see the jewels'. Her visit was one of smiling faces and jokes from the staff, which helped her feel at ease in her wheelchair.
My mum was happy to be taken around the castle. The only thing she said she really wanted to visit was the Scottish War Memorial. I didn't really think through why until we were inside. She asked me if I could locate a name for her. The named man in question was her great uncle, who sadly was killed in action in Egypt during the First World War. The staff were again brilliant pointing us in the right direction and helping us work through the names of the fallen in our quest.
My seven-year-old Tara and five-year-old Emma are Edinburgh Castle veterans and were on a different search. They were very sure about what they wanted to see. First up were those sparkling Crown Jewels, which they deemed fit for 'for a real queen'. Tara was determined also to check out the castle shop to add to her bourgeoning collection of Historic Scotland rubber ducks. This time she snared a rather snazzy William Wallace duck for her bath.
Emma was on the look out for that 'loud gun'. She was talking, of course, about the famous cannon that blasts out across Edinburgh at 1pm every day. She seemed a little disappointed when she came across the modern field weapon responsible for the sound. She was then delighted when we chanced upon the massive hulk of Mons Meg. This was the 'real one o'clock gun' for Emma. One day I might tell her the truth, but for now she is delighted with her find!
Everyone in our group had found what they were looking for. Everyone, that is apart from my wife. She had done what everyone else wanted to do without complaining, even accompanying me through the regimental museums I find so captivating and take so long in. It was her turn and it was off to the Queen Anne Tea Rooms for a spot of afternoon tea.
Afternoon tea at Edinburgh Castle is something of a posh affair. Indeed you could say it is fit for royalty. It certainly met with approval from my mum, her little granddaughters and most importantly mummy, who enjoyed it with a cheeky glass of champagne.
Now that is a sign of a castle that offers something to suit everyone and an attraction that is definitely worth going back to!
Author: Robin McKelvie