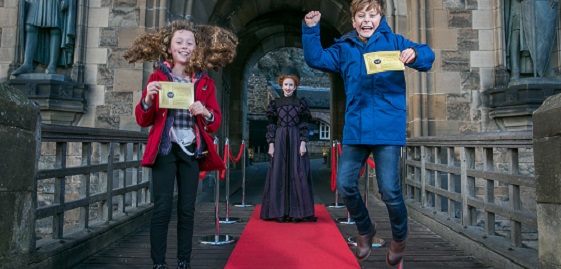 If you've ever dreamed of getting free tickets to the castle this is your lucky day, because Ticket Giveaway has returned for 2017!
A St Andrews Celebration
As part of Scotland's Year of History, Heritage and Archaeology, Historic Environment Scotland are giving out thousands of free tickets to some of the country's finest heritage attractions – including us! This St Andrew's weekend (Saturday 25 and Sunday 26 November) you can celebrate Scottish history in style by exploring some of the historic stories that make us who we are.
How To Get Involved
All you have to do to book is visit our special Ticket Giveaway webpage. We'd love you to visit us here in Edinburgh, but there are over 30 top visitor attractions on offer across Scotland.
These include the remarkable Neolithic settlement of Skara Brae – only about 300 miles north of us in Orkney! Like us, this sits within a fantastic World Heritage Site. They also have a cafe to rival our own, and 5,000 years of history for you to uncover.
Further south (just over 40 miles south of us) you can also visit the graceful ruins of Dryburgh Abbey in the Scottish Borders. This has a very different feel to the hustle and bustle of the castle, but it's a perfect retreat if you'd like a bit of quiet contemplation.
Other top sites include:
You have until 5pm on Friday 24 November to register online for free tickets, so get your skates on!