Traditions and Tales of a Victorian Christmas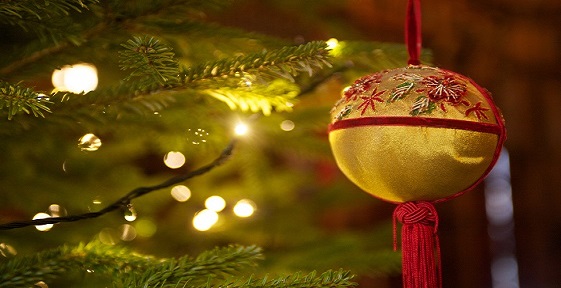 Sadly Santa Claus was busy however we caught up with Fran, our Assistant Events Manager, to give us more info about Traditions and Tales of a Victorian Christmas.
How long have you been involved in this festive event project? 
Christmas always comes early when you work in events. We usually plan our festive programme around nine months in advance and I'm involved in every aspect of the event, from its concept right through to the delivery of it on the day.
What would the castle have been doing during the Victorian era at Christmas time (was it occupied or a tourist attraction)?
During this period the castle was, as it still is today, both a visitor attraction and a military base.
What was the idea behind the Victorian Christmas Project?
Our Charles Dickens inspired Traditions and Tales of a Victorian Christmas was originally developed to provide visitors with a festive event that would explore the history and tradition of Christmas in an informative and engaging way. Always a popular fixture in our events programme with visitors, it runs from 19-23 December.
How is the castle decorated to mark Victorian Christmas festivities?
The centerpiece of the castle's Christmas decorations takes the form of a Noble Fir tree, which usually stands at around 17-feet tall. Situated in the Great Hall, it proves to be an additional draw for our visitors over the festive season.
How are the staff's Victorian costumes are researched/ made?
This event, which is now returning for an eighth year, features historical costumed performers. Inspired by Charles Dickens, the event centres around a reenactor portraying one of this period's most iconic writers. Our performers source their own authentic costumes.
Why do people love the idea of a Victorian Christmas?
This particular period in time can be seen by many as the origin of the Christmas that we know and celebrate today. It was the start of a number of festive traditions which continue over a century and a half later.
What traditions today stem from Victorian times?
The Christmas feast can find its roots since before the Middle Ages, but many of the festive traditions such as decorating the home, pulling crackers, sending Christmas cards and even the popularisation of the Christmas tree can be traced back to the Victorians.
What Victorian Christmas habits have fallen by the wayside?
Some might say they have just evolved over the years. For example we might've swapped festive parlour games for more contemporary versions, but the traditions of Christmases past can still be recognised today.
What food would have been eaten during a Victorian Christmas?
It was during these times that turkey became the popular meat dish on the Christmas table. Previously goose or beef were the preferred choices. The Victorians were also responsible for the development of the mincemeat filled mince pies that are still enjoyed at this time of year.
What can visitors expect from the celebrations?
This event will see visitors discover more about how this period in history helped shape the Christmas many of us know today. It will offer a real insight into the festive traditions and customs and how Christmas might once have been celebrated over 160 years ago.
Are celebrations suitable for all ages?
This event is definitely one for all the family to enjoy.
Traditions and Tales of a Victorian Christmas takes place at Edinburgh Castle from Monday 19 to Friday 23 December at 11.15am, 12.15pm, 2pm and 3pm, daily. This event is included in the cost of admission to the castle. We hope you all have a wonderful Christmas – remember to share you pictures with us @edinburghcastle #EdinburghCastle