Uisge Beatha – The Water of Life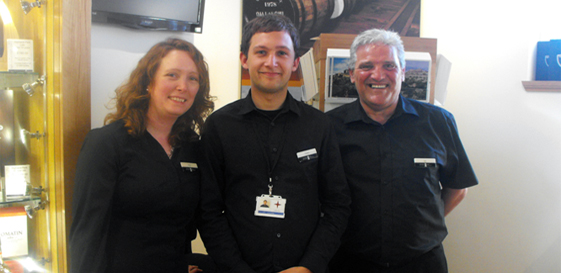 Last Thursday at Edinburgh Castle we welcomed one of the Master blenders from Tomatin Distilleries to our Whisky and Finest Foods Gift Shop.
We closed the shop in the afternoon for our Whisky Tasting Masterclass, which allowed 18 lucky visitors to enjoy a few drams and learn some interesting facts about our national drink.
Here is Alistair Mutch from Tomatin Distilleries in full flow explaining about the whisky making process. Our audience is made up of whisky lovers from around the world, including countries as far afield as Australia, Brazil, China, India & the USA.

Alistair Mutch describing the processes involved in creating our national drink
Thanks to our staff from the Whisky & Finest Foods Shop, pictured below, for successfully staging our first Masterclass of the season.
When they are not busy arranging events such as this one, our staff are on hand to provide expert advice on the fantastic range of whiskies sold in our shops – whether it's a small gift for friends and family back home or a limited edition single cask, we have something for everyone.

Left to right: Kyla Johnson, Calum Day & Ian Alexander who helped stage the Whisky Tasting Masterclass
Here's to more Whisky Masterclasses in the future!
Sláinte!
Emma Bowie, Events & Recruitment Coordinator
Edinburgh Castle