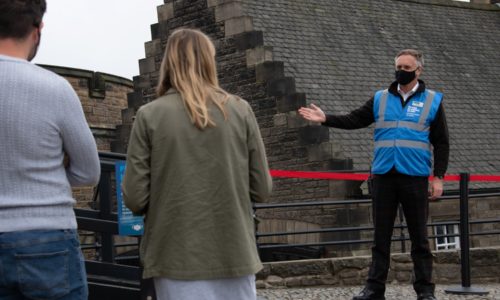 Visual Story for Autistic Visitors to Edinburgh Castle
As we reopen the doors to Edinburgh Castle, we've been working to open up the castle in other ways too.
Working in collaboration with museums access consultant Lynsey Anderson and Colouring Outside the Lines – a local organisation supporting Autistic girls and their families – we've developed a new Visual Story, which can be used to plan your visit, and help you know what to expect when you arrive.
The Visual Story contains pictures of your journey through the castle, introducing you to the different spaces and members of staff. There is a family version, and an adult version available. You can see them on the Edinburgh Castle website.
Just now, visitors can expect the castle to be quieter than usual. The number of people visiting is limited, and there are lots of Covid-safety measures in place. We've included these in the Visual Story, but we'll be keeping this updated as the situation changes.
If you use the Visual Story, let us know! Is there anything about it you'd change? We really want this to keep evolving to make it as useful as possible. Contact us at interpretation@hes.scot
More information to help you plan your visit:
How to get to the castle
Our website has  information on how to get to the castle. Please be aware that the street approaching the castle (The Royal Mile) can be busy.
Accessible parking
A limited number of blue badge spaces are available on the castle esplanade (the open space in front of the castle). With prior notice, it may be possible to use these without a blue badge if you believe it will help reduce sensory overload. Use the contact details below to get in touch with our staff.
Tickets
You'll need to pre-book tickets for a particular timeslot.
If it is too busy and you find it necessary to leave the Castle before you were planning to, it may be possible to get your ticket stamped to allow you to return and complete your visit. Please speak to a member of staff, who will also be able to advise on quiet times for your return visit.
Carers
For visitors who require a carer, the carer will be admitted free of charge. Book your paid tickets online through the webstore, and then email ticketing@hes.scot with your confirmation number. They'll be able to add a carer ticket to your order. If you have any problems arranging this, staff in the castle Ticket Office will be able to help on the day of your visit.
Storage
Please be aware the castle has no storage for bags or buggies.
Special events
Occasionally the castle will host special events – like a gun salute – which could be noisy, or which could make it busier. To check if there are any special activities on the day you would like to visit, contact us at the number/email address below.
Mobility vehicle
A mobility vehicle is available at the castle. This is primarily for physically disabled visitors but please speak to a member of staff if you feel that using the vehicle may assist in your visit due to sensory needs etc.
Useful resources: