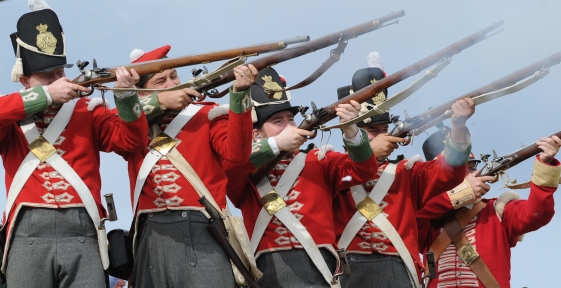 In the 200th year commemorating the anniversary of the Battle of Waterloo, visitors will have the last opportunity to witness two Scottish Regimental flags and also take part in our Waterloo themed event!
To start off, in early May visitors to the castle will have a very rare and unique opportunity to view two Regimental flags in the Great Hall which accompanied the 3rd Battalion of the Royal Scots during the Battle of Waterloo on 18th June 1815.
Once carried by The Royal Scots into a number of battles, including Waterloo, these regimental honours depict their own and the King's colours, with the royal cypher of King George III, representing honour and traditions as a symbol for rallying during the battle.
On Sat 2 and 3 Sun May, from 12pm – 4pm, journey back to 1815 when Europe is once again at war. Meet the officers and men as the ready themselves to take on resurgent Napoleon as he is marching through France, gathering an army.
Gain an insight into soldier life and find out what food they ate to ensure they were on top of their game, and how this differed to the officers.
We will be recruiting little soldiers and dragoons to see if they have what it takes with our drill activities!
To round off the day, all those budding artists, children and adults alike can make their own badge to replicate the eagle of the 45e Régiment de Ligne of the French army.
Join us and find out more about this intriguing time in history. To save time buy your tickets online!
Why not share your photos with us and tag @edinburghcastle on Twitter and #EdinburghCastle on Instagram.